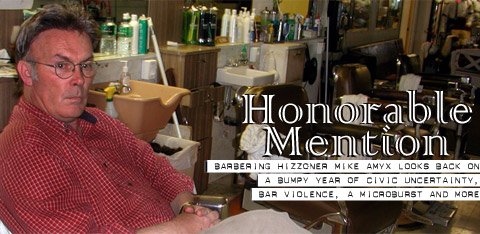 Norman Rockwell couldn't have conceived it better: a third generation barber as the three-time mayor of a bustling Midwestern college town. That's Mike Amyx's life in a nutshell, but gone are Rockwell's simpler times. With the passing of 2006, the mayor may well have breathed a sigh of relief.
The year kicked off with tornadic winds and city-wide destruction. High-dollar proposals for a new library stirred up ardent discourse. Then came the resignation of long-time city manager Mike Wildgen and the eventual appointment of assistant city manager David Corliss. Violence reared up downtown, with nightclub shootings and weapons arrests making the news. And Wal-Mart took the city to court.
Street Level deftly swivels a barber's chair to talk face-to-face with Mayor Mike about guns, the weather, and facing south for more than 30 years.
Subscribe to Street Level podcast in iTunes
Abridged text version of the podcast
lawrence.com: 2006 has brought downtown Lawrence a few problems. We've had some shootings this year, weapons incidents at nightclubs, aggressive panhandling:
Amyx: : I want to be really careful as we look at new ordinances to restrict entertainment venues in downtown: Lawrence prides itself on the music scene. :We don't want to do anything to prevent people from wanting to come down and be part of that scene. :Safety has got to be right up front, so that everyone that comes into this community, no matter which part of town, feels safe and secure.
Using Last Call as an example-they've had weapons-related incidents around that place for quite a while now.
We've had weapons-related incidents at all kinds of places. I don't think it's fair to single anybody out. :Legally, what can we do as a community? I've been told that with the ordinances that we have on the books right now, we can't go in and close a place down because they may be a nuisance. We've got to find out what we can do.
Is increased police presence part of it?
In the discussions I've had with bar owners, they say we need increased police presence. :Because we have had police confiscate weapons, we've got to take an action. People in the bar business have got to understand that this is about safety.
Do you get an earful ever day from your constituents?
Absolutely. :Not everybody comes to City Hall. :Being in business on the main street in town, I get the opportunity to see folks on a daily basis. :Always get comments, never a problem.
How many years have you been looking out the window of Tom Amyx barbershop?
A little over 31 years. Every once in a while I think about putting the shop on the other side of the street so I can look north. :Thirty years ago in downtown Lawrence on a Saturday afternoon, I probably knew seventy percent of the people walking up and down the street. Today, I may know thirty percent of the people walking up and down the street. We have so many visitors to the community over a weekend.
What did the microburst cost us and how do you think we responded?
Dollar-wise, it was big. And it was one of those big times in the community where you saw people helping people.
What will be on the council's agenda for 2007?
The library. The city budget process. We're seeing a lot of our long-time department heads at City Hall retire. We're in the process of replacing the Planning director, the Utilities Director, the Parks and Rec department head, Human Relations:Those are tough jobs to fill because these folks have their thumbprints on a lot of the projects and policies we have in the community. Another thing that's important to me is that the public debt we have is not allowed to grow at a pace that we can't afford. I think I understand the difference between want and need. :And then, I realize that we have election this spring. Everything I'm telling you may change.
More like this story on Lawrence.com