Saturday, January 13, 2007
The figure is a firefighter, larger than life at 7 feet 8 inches tall. He's peering forward valiantly, as if toward a burning building he's about to enter.
To artist Benjamin Victor, the sculpture represents the bravery of an entire profession.
"Everybody talks about it, so I know it's in the front of everybody's mind - the 9/11 tragedy, and how we may have, without realizing it, taken firefighters for granted," Victor says. "But after 9/11, everybody realizes the great sacrifice these men and women are willing to give for us.
"These guys will look at a burning building and people in trouble, and go in there when everybody else is running away."
Today, Lawrence residents can get their first view of the city's newest piece of public art - "Monument to Firefighters," which will be unveiled at 2 p.m. at Fire Station No. 5, 1911 Stewart Ave.
The sculpture, by Aberdeen, S.D., artist Victor, was paid for by the city's percent for art program, which dedicates up to 2 percent of construction costs of public facilities and park lands to art projects. The statue is meant to serve as a memorial for those who have died in the line of duty, and a place where people can reflect on the bravery of firefighters.
"It's sort of a character/role model type thing," says James Schaefer, co-chair of the Lawrence Arts Commission's selection committee. "They risk their lives for someone else, and that comes across in the intensity of the sculpture."
Victor, who installed the sculpture Thursday, was chosen from about 60 artists who submitted proposals for the site.
He worked around seven months on the piece, sculpting it from clay before it was bronzed in Colorado. He had Douglas County Fire & Medical send him a set of equipment used by firefighters so he could get the details just right on the bronzed firefighter.
"There was quite a bit of time-consuming detail work," he says. "Each of the dials, knobs and hoses had to be 1.2 times actual size."
To get the posture right, he sculpted the firefighter's body completely before he started on the hat, coat, boots and gear.
He especially worked to get the right textures on the finished work, such as buffing the reflectors so they're shiny.
Victor, who received a $65,000 commission for the project, says this is the largest figure he's completed, and he also did it on a far more accelerated timeline than usual. At age 27, he's already had a sculpture exhibited at National Statuary Hall in the U.S. Capitol (a statue of human-rights activist Sarah Winnemucca), and his work can be seen in several large bronze figures of soldiers at the Aberdeen Regional Airport.
Photo Gallery
In honor of the fallen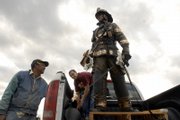 Schaefer says Victor's work has a "heroic or classical" look to it, which is partly why it appealed to the selection committee.
"It's also approachable," Schaefer says. "The whole point of the sculpture is it's being set in this parklike setting in front of the administration building. In some ways, it's a memorial, but it's also a place for the public to interact."
Fire officials in Victor's home town were so impressed by the finished product they've started a fundraising effort to cast a version statue for one of their own fire stations.
Mark Bradford, chief of Douglas County Fire & Medical, says he thinks the sculpture perfectly captures the spirit of firefighting.
"It has a strong resemblance of who we are and what we do on a day-to-day basis," Bradford says. "One reason we favored (Victor) over the other artists throughout the country who submitted proposals to do the piece is he creates a very intricate piece of art. That's who he is and what he does. This isn't a generic firefighter. This is very representative of who we are and what we do in Douglas County."
About the work
Name: "Monument to Firefighters"
Artist: Benjamin Victor, of Aberdeen, S.D.
Height: 7 feet 8 inches
Mounting: Sits on an 8-inch pedestal
Weight: 500 pounds of bronze. The clay version, before it was bronzed, weighed 600 pounds
Commission: $65,000, paid for through the city's Percent for Art program
Monument unveiling
When: 2 p.m. today, followed by a reception and Q&A; with artist Benjamin Victor
Where: Douglas County Fire & Medical Station No. 5, 1911 Stewart Ave.
¢ To read more about the city's Percent for Art program, see Sunday's Journal-World.
More like this story on Lawrence.com