Photo Gallery
Style Scout: Becca Evanhoe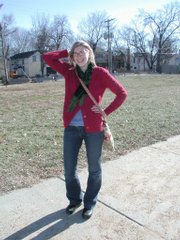 Becca Evanhoe
Age: 23
Hometown: Derby, KS
Time in Lawrence: 5 years
Occupation and/or major: Merc body care / KU senior Chemistry
Where was/what doing when scouted?
Out and about with roommate Charley.
Favorite clothing store?
Wildman Vintage. They have great coats that fit me, and the best variety of unusual clothes.
Other stores you frequent?
Dusty Bookshelf. I eat a lot at Wheatfields and La Parrilla. I go to Liberty Hall once a week to get or see movies. I get all of my food at the Merc. And Goodwill: I recently bought a dissecting game there called Ice Mummy.
How would you describe your style?
Doing a lot with a little. A lot of mix-and-match. I think accessories are the things people notice the most, so I pay attention to accessories. I also like ugly things-I like that it turns the whole "looking hot" thing on its head.
Favorite trend for this season?
For men and women, I love knitted sweater vests over a cool shirt. Scarves, except pink ones with big pompoms. I like the fact that people don't shower as much in the winter-saves water, and it's better for your skin and hair.
Least favorite trend right now?
I have mixed feelings about women's leather boots. I've seen a few good ones, but most of them border on being props from a bad western. And this is probably my mother talking, but I don't like it when people don't dress for the weather. T-shirts in 30-degree weather? What are you trying to say?
Where do you get your haircut?
The Fixx, Julie Noyce. By getting my hair cut, I mean once, maybe twice a year. I keep my hair long.
Favorite coffee shop in Lawrence?
The Pig. It was the first coffee shop I started coming to. I'm really comfortable there, and the music's good. La Prima Tazza is where I go to really get work done. Everyone there seems so industrious.
Favorite bar in Lawrence?
Tap Room. It strikes a good balance between a dive bar and being hip. It has a slip-shod decor I like. I probably like it because it's pretty ugly inside. And Louise's West.
Is there anything you'd like to see more of in Lawrence?
More bourbon tastings. There are plenty of wine tastings. I'd like to see the writing community be as prominent as the visual arts community. More Danny Pound shows.
Less of in Lawrence?
Less Hangauers. They seem to be multiplying. Less fast food. I say this for my own safety-I'm susceptible to such cravings. Less McDonalds, less temptation. Less late fees at Liberty Hall.
Are you a happy American?
I'm a happy person, but an unhappy American. Recently I realized that my people's-America's-exploitation of other people is something I'm part of and feel responsible for. I'm going to feel bad about that until it stops.
Tell us a secret
I've never masturbated.
Who's got style?
My roommate Chloe; I just drool over all of her clothes. She knows how to put weird things together. I think that John Kerry has style. Yes, John Kerry! He's got elegance and palpable intelligence. And who needs fashion when you've got a forehead like that?
Style = ?
Ultimately, it's a statement of: "Hey, I wanna look like this." It's a weak form of self-expression, because what you do and say, and what you're passionate about, really expresses who you are. Clothes can't do that.