Photo Gallery
Style Scout: Charley Downey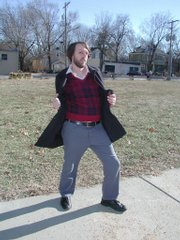 Charley Downey
Age: 34
Hometown: Olathe
Time in Lawrence: 9 years
Occupation and/or major: Majoring in film, works at Lawrence Memorial.
Where was/what doing when scouted?
Out and about with roommate Becca
Favorite clothing store?
Boomerang in Westport. In Lawrence, the Social Service League is pretty cool. And they're so nice there.
Other stores you frequent?
Wildman Vintage. The Antique Mall: I'm collecting rotary cradle phones-I have at least ten. And record players, the old player cabinets-a big piece of furniture. I have six. Clay's Cafe-my favorite dish is the fried chicken with fried potato cubes. And India Palace-the Chicken Tikka Masala is the best.
How would you describe your style?
Hobo on the go. Found object chic. I'm always looking. I might find something I want to wear at 7-Eleven. You just never know. I like to believe that clothes find you.
Favorite trend for this season?
Moustaches. The initial courage that it takes to totally Selleck out is considerable. But the payoff is great. I think most people start out growing a beard and end up with just the moustache.
Least favorite trend right now?
Shortness. Short people bother me lately. It's the whole Napoleon complex thing. They make life hell for the rest of us.
Where do you get your haircut?
Chloe Jones cuts it actually.
Chloe's pretty short.
I tolerate Chloe.
Favorite coffee shop in Lawrence?
I do adore the coffee at the Bourgeois Pig. Henry's-the atmosphere's good, especially upstairs. And the most beautiful women in the world are flown in to work at Milton's.
Favorite bar in Lawrence?
Tap Room. Danny Pound's really sexy. And there's serious action on the pool table. I also like the element of mystery about what's upstairs. I'd like to issue a formal plea to Tap Room management to let us see what's up there. I've heard people have been murdered up there. Haunted, ghosts, whatever.
Is there anything you'd like to see more of in Lawrence?
Ashtrays shaped like the fifty states. I've always liked ashtrays shaped like states. Except for Texas-it's harder to empty. And more Early Jewelry on people everywhere.
Less of in Lawrence?
World peace. The lack of peace creates competition, competition creates forward motion, which creates upward mobility, and upward mobility is American.
Are you a happy American?
Absolutely. I'm completely content with everything and anything that's happening in my country at the present. I don't see any reason to change it. I'm particularly happy with the abundance of war and overall human suffering.
Tell us a secret
I got my first orgasm from an electric sander. It was my cub scout derby car.
Who's got style?
Chloe Jones. Her style makes you forget she's only four feet tall and trying to take over the world. Boog Highberger has a lot of style. He's got that whole tall, lanky weirdo thing going on. And, of course, Mr. J. C. I'd wear a crown of thorns too, if it didn't chafe.
Style = ?
Figuring out what your body and personality are suited to. Comfort, and also feeling good about the way you look. You can get clothes that are "in style" that look absolutely ridiculous if they're not right for you. On the other hand, you could carry a stock pot around and be stylish if you know how to carry it right.