Huddled around an atlas at a coffeehouse table, the Kinetiks are planning their first tour.
In just a year's time, the Kinetiks' exuberant and intelligent brand of rock has earned them a loyal following-particularly among Lawrence musicians. Now, they're taking it to the streets.
Mash-up the cerebral stylings of the Talking Heads, the B-52s, and Siouxsee and the Banshees with the hard-rocking sound of Heart and the pop sensibility of The Archies, and you get an inkling of the Kinetiks' sound. But it's their energetic, kinetic live performances that continue to fuel their following.
Street Level chats with Rani Waugh (guitar, keyboards), Spencer Goertz-Giffen (guitar, vocals), Nate Craft (bass), and Jason Kniep (drums) about getting started, going somewhere, and doing something with rock and roll.
Subscribe to Street Level podcast in iTunes
lawrence.com: What's involved with setting up your first tour?
Rani: We have no idea.
Spencer: We're meeting now to try and figure that out. We're going to contact friends in other bands to see what they're doing.
Nate: It also depends on finding cities where we have people that we know, so we can sleep on couches and not pay for hotels.
Do you have a van?
Jason: Yeah, maybe. I don't know yet if we have a van. I'll have to check into that.
Spencer: Oh. Really? O.K.
What cities are you going to hit?
Rani: I'm working on Milwaukee and Chicago.
Nate: Columbia, St. Louis.
Rani: Madison, if we can. Maybe Minneapolis:
Nate: Too far.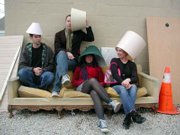 The Kinetiks is just starting out. What has your experience been so far in this saturated music town?
Spencer: It definitely doesn't pay.
Rani: But that has nothing to do with it.
But it wouldn't pay in L.A. at this point either. You have to get to a regional or national level. I imagine this tour is part of an effort to do that.
Spencer: Right. And we're going to be recording a five-song EP in the next month or two-that's the motivation for the tour.
When are you going out?
Spencer: March, probably during KU Spring break.
How did the Kinetiks unite?
Spencer: Well Nathan and I are former step-brother and step-sister.
Nate: Our folks got married. It was their second marriage so we were step-siblings. But since then, they've divorced so it kind of puts us in a netherland. We were step-siblings; now we're just in a band together, I guess.
Jason: Since then, they've adopted Rani and I, so we could all be a Brady Bunch (laughter).
Spencer: I moved to Lawrence to join a rock band, basically, and to start learning electric guitar. I met Jason on the dance floor of Eight-One-Five (laughter).
Rani: Awesome. I met Spencer at a birthday party. She was talking about playing music. We discussed getting together and I got her number. I never called her. Then I ran into her and Jason one night at The Replay:
Spencer: : And then Rani joined the band. And she was punctual. She came to every practice on time.
Past Event
Friday, January 26, 2007, 10 p.m.
Record Bar, 1020 Westport Road, Kansas City, MO
18+
What's your vision for the Kinetiks?
Spencer: I think we'll hopefully get signed someday, although Jason thinks that's not the wave of the future.
Jason: Do it yourself. Sell it on the internet. It's all there, the technology's there. No need for these labels.
Nate: It's true. Everybody's recording themselves now, everybody's putting their own stuff out. It seems like there's a lot more potential on the internet now.
So you see the Kinetiks as a career?
Spencer: Maybe a part-time job.
Everybody's a rock star these days. And quite a few people are happy just to have that as just one aspect of their life.
Rani: Exactly. I'm not sure I have any goals for the Kinetiks, other than just keeping Jason and Nate in the band. All I ever wanted was to just be in a rock and roll band that gets shows. I have a job, I'm going back to school, and I will have a career-[the Kinetiks] are what I do to make myself happy. It's not about making money. It's a creative outlet that's absolutely necessary.
Nate: I think we keep writing better and better songs. I'd just like to write better songs, stuff that makes people want to come out and see us:
Rani: : And dance. We want people to dance.
Spencer: That's our only real goal.
Past Event
Friday, March 9, 2007, 10 p.m.
Replay Lounge, 946 Mass., Lawrence
21+ / $2
What if something clicks with the Kinetiks? Does everything else go on hold?
Rani: Well, that would be fine, too.
Jason: Then we'd probably break up. (laughter)
How would you define your sound? How do you reference yourselves?
Nate: You'd have to say we're post-Radiohead, post-Beck. And some people have compared us to the Talking Heads-that's one of the best compliments we've had. I don't know how many folks listen to Arcade Fire but somebody said we sounded like that-also a compliment.
I've heard B-52s also, but I think Talking Heads and B-52 references have more to do with having two women in the band.
Rani: I never think of our band in that aspect-we're just a rock and roll band. But it does seem that other people make comparisons based on that, which always throws me off.
Spencer: I think I did start on this path, though, because I wanted to inspire other women to pick up the guitar.
Nate: I don't know whether the songwriting perspective Spencer gives is uniquely feminine, but I think there's some element of that in the songwriting. It's a lot of what our sound is. Is it because she's a woman? I don't know.
What are some of the themes of your songs?
Spencer: Well, most of them are about break-ups and trying to communicate with each other.
Jason: One's about laziness.
Rani: Financial issues-cheap cigarettes-and depression. And bullying-there's one about a child bully.
Nate: Somebody pointed out to me once that Spencer references something about church in several of the songs. Why is church in there so much?
Spencer: We all grew up in church. It's part of our lives. : Nathan played bass in the church youth group.
Nate: I played bass in the Praise Band. That's where I cut my teeth learning chord theory. We all have to start somewhere, I guess.