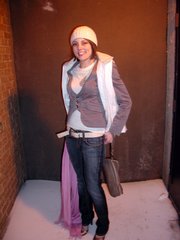 Elizabeth Steranko
Age: 25
Hometown: Stillwell, KS
Time in Lawrence: 2 hours (lives in KCMO)
Occupation: City Planner, Raymore, MO
Where was/what doing when scouted? Drinking coffee, reading the Sunday paper, and doing a crossword puzzle.
Favorite clothing store?
I like the boutique stores. I like Review in K.C. Hobbs has unique stuff-a nice mix of clothes and knick-knacks.
Other stores you frequent?
Love Garden-I like all the 45s, I like seeing bands put out 45s. The Tap Room: the live music, and how it starts out quiet and everybody ends up dancing by the end of the night.
How would you describe your style?
Uncomplicated. A classic look, soft materials. A tailored fit. It's a mix between being presentable with a modern edge.
Favorite trend for this season?
I like the bold, nautical prints that are out. I like the big jewelry, the big earrings, and skinny jeans.
Least favorite trend right now?
Plaid. I think plaid tried to make a comeback for a while. Not pretty. Polka dots either. I hate turtlenecks.
Where do you get your haircut?
Shag Salon, KCMO. Randy from Seattle cuts my hair.
Favorite coffee shop in Lawrence?
The Pig. I like that it's good on Sunday morning or Friday night. I like that it's quiet and intimate, and you can have great conversations.
Favorite bar in Lawrence?
I don't go to bars in Lawrence, and I already mentioned the Tap Room. I like Free State. Is there anything you'd like to see more of in Lawrence?
A little mom and pop diner that serves breakfast 24 hours. We were in desperate need of breakfast at four in the afternoon the other day.
Less of in Lawrence?
I would say just college students.
Are you a happy American?
This probably isn't America's proudest moment in time. But I'm starting to see some positive things in politics. Women, minorities. It seems like priorities may be shifting towards the public good.
Tell us a secret
I'm afraid of airplanes. I don't like flying at all.
Who's got style?
I'm surprised that more modern celebrities don't have style. I think they take a lot of chances to stand out and end up looking silly. Naomi Campbell for sure. I look to old movie stars like Bette Davis and Marlene Dietrich, very feminine, very bold for their time.
Style = ?
Style is the best way we have to present our personalities to other people at first glance. I think a lot of people would claim not paying attention to their appearance, but that belies their personalities. Style is personality.
More like this story on Lawrence.com