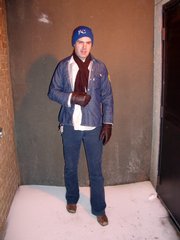 Nathan Jenkins
Age: 29
Hometown: Kansas City, Kansas
Time in Lawrence: 5 months
Occupation: English instructor, Haskell Indian Nations University
Where was/what doing when scouted? Drinking coffee, reading the Sunday paper, and doing a crossword puzzle.
Favorite clothing store?
Wildman Vintage-They tend to get good pants and jeans in pretty often. I get my motorcycle gear online. Haven't had any bad online shopping experiences either. I occasionally check in at ATC.
Other stores you frequent?
Vermont Street BBQ-I like the smoked wings and the pulled pork sandwich. They tried to get me to eat a giant turkey leg yesterday, but I wasn't in the mood. I really don't know many people here yet except the people at Vermont Street BBQ, so I like to go there, have a good beer, and watch the ball games. I go to Love Garden-I collect vinyl. I used to come down from KC to visit my brother when he was at KU and we'd hang out for hours at Love Garden. I like Half Price Books.
How would you describe your style?
Definitely Western-boot cut jeans, western shirts: sort of a cross between western and motorcycle culture. I've been riding motorcycles for a little over 10 years. I have a BMW for touring and I'm fixing up a cafe racer for everyday use. I don't pay attention to trends. The concept of clothing as identity doesn't really work for me. For work, I wear a nicer shirt and I shave.
Favorite trend for this season?
It's got to be something the girls are doing. I don't like the Uggs. In California, in December, girls wear them with mini-skirts-purely to reference winter. I like fingerless gloves that turn into mittens. I have a plaid pair.
Least favorite trend right now?
I don't know what you call it. When guys wear tight pants and big shoes. Kids that want to look like rockers-kind of a Trainspotting second go-around. They look like ducks.
Where do you get your haircut?
I do it myself or have someone else do it. Elizabeth cuts it a lot.
Favorite coffee shop in Lawrence?
The Pig and Z's. The Pig has a nice atmosphere and good music. Z's has better coffee. I buy all my beans there.
Favorite bar in Lawrence?
I don't go out too much. Since I'm new to Lawrence, I don't really have a social scene. It's more about spaces I like to be in. For that, it's the Pig or Henry's upstairs. They're both cozy and make creative use of space. They remind me of New York, where restaurants, stores, and bars are all tucked in next to each other.
Is there anything you'd like to see more of in Lawrence?
I'm pretty easy to please. So far, it has everything I need, really.
Less of in Lawrence?
Traffic. I moved here from Bozeman (Montana) to teach. Bozeman is 40,000 people. Seems like a lot of traffic on Mass St. and on 23rd. The superstructure doesn't support it anymore.
Are you a happy American?
I think so, even though our system is undemocratic. Democracy is having everyone represented. I don't have any party affiliations-I'm still waiting for the process to open up a bit. But even though it's not ideal politically, I think our lives here are pretty easy compared to others. I like to travel all over the U.S.-there are different climates, different people, different styles of cities and landscapes. It's a great country.
Tell us a secret.
I was prom king. There was a stoner, a football player, and me. Somehow, it worked out. My mom probably has a picture of me in my crown.
Who's got style?
Paul Newman-HUD and Cool Hand Luke. I remember watching HUD when I was younger, thinking I'd like to look like Paul Newman. He's got a classic, Americana look. Then there's Clint Eastwood:
Style = ?
Being creative with popular styles, and borrowing from styles in a way that's flattering. If there's some aspect of a trend that you like, and it fits your personality, you can borrow it. I give consideration to my appearance; I like clothes. They can be fun and interesting. The problem with trends is that they take a lot of the fun and creativity out of it. Trends limit your options. Politics and trends are undemocratic.
More like this story on Lawrence.com