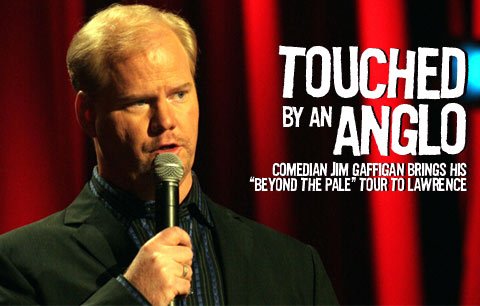 He's pasty, balding, and otherwise your typical wad of doughy Midwestern albinism, but Jim Gaffigan is a comedy rock star. The Indiana-born actor/writer/comedian is a frequent guest on "The Late Show with David Letterman" and "Late Night with Conan O' Brien" (co-starring in the "Pale Force" cartoons with O'Brien) and has displayed his acting chops in series ranging from "Law & Order" to "Sex and the City." Although you might know him best as a Sierra Mist pitchman, Gaffigan's white bread and butter is stand up comedy. His routine-targeting everything from Hot Pockets to his painfully Caucasian upbringing-is profanity-free yet bitingly satirical. He's just finished his second Comedy Central stand-up special, "Beyond The Pale," and his stand-up tour stops in Lawrence in support of the broadcast, DVD, and CD.
Subscribe to Punditocracy podcast in iTunes
Past Event
Saturday, January 27, 2007, 6:30 p.m.
Lied Center, 1600 Stewart Drive, KU campus, Lawrence
All ages / $34.75
No-fi highlights of the podcast
lawrence.com: First of all, thank you for joining us.
Jim Gaffigan: It is an honor, sir.
Have you ever been to Lawrence before?
No:I have been to Kansas. I did Kansas State a couple of years ago.
It seems like you'd feel right at home here. Kansas is possibly even whiter than Indiana.
Well, there is that factor. I did a show in Kansas City (Missouri), and when we were driving to the airport I saw a tornado. But it wasn't like I hadn't seen one before. I grew up where there were tornados.
How has growing up in the Midwest influenced your stand-up?
You know, it's interesting; I'm not conscious of it necessarily influencing it, but you are a product of your environment. I do feel like I'm very Midwestern. I've lived in New York for 15 years and I'm still treated like a tourist. I do feel like my sensibilities definitely were affected by it. I like to think that (my stand-up) appeals to a broad section of audiences and it doesn't really exclude anybody. The intention is to make people laugh. I don't have some specific agenda or some complaint of anything.
Is that attempt at broad appeal conscious or just your personality?
I think that it is a lot of my personality. I'm kind of a doughy white-guy and I feel like if I was up there talking really politically the audience wouldn't accept it, you know what I mean? And also, people get nervous when a blonde guy that's very pale starts talking about politics. The Germans kind of messed that up.
You deal with food quite a bit in "Beyond the Pale." Is food your religion?
I think that food was definitely an obsession. There are things that I'm passionate about and then kind of obsess on, whether it be cake or Hot Pockets. I'd kind of sit there and go, "Alright, I want to find every possible 'cake' point of view." I mean, I'm not dealing with profoundly important topics, but I kind of like that challenge.
Your name is synonymous with Hot Pockets-blessing or curse?
For me, it's definitely a blessing. If I'm 60 and they're still only talking about Hot Pockets, then it would probably be a curse. As a comedian I've been around for 15 years, so if people are coming to see my show and they want to hear the Hot Pockets joke or the manatee joke, I'm grateful that they're coming.
Have you ever been contacted by Hot Pockets, Inc.?
I have, by e-mail. They love it. I think that Hot Pockets know they aren't producing caviar. I personally think that they should be one of the sponsors of the tour. There are always, like, 15 people who bring Hot Pockets boxes to my show and I sign them afterwards. Even though I did receive an e-mail saying that it was somebody's last meal on death row, it's not something you're going to have on you wedding night. Maybe you will, I don't know. It's not like I'm criticizing:they know that it's not filet.
Do you still eat Hot Pockets?
Oh yeah, totally. I also eat Cinnabon here and there. I'm not under the belief that I'm eating something good for me.
Are you recognized more for the Sierra Mist commercials, or as the victim of the "Meow" gag in "Super Troopers"?
It used to be, "There's the 'meow' guy!" Or, "There's the Sierra Mist guy!" Or people would just say "Hot Pocket" to me. I don't even know how to respond to that. "Thank you?" Now people are starting to know my name-not a lot of people.
Are you still being confused with Phillip Seymour Hoffman?
It did happen once over Christmas. It's funny, because I always think people are kind of messing with me. They know that I've been compared to him so they kind of do it as a gag. "You were great in 'Capote'! Ha, ha, ha!"
Do you plan to do more acting in the future?
Yes, I love acting. Acting is fun because you're totally in a character. There's something strange about when you play a character. Eventually, people on the set kind of think you are that way. When I was on "That 70s Show," I played kind of a dumb guy and people just assumed I was that stupid. It was like, "You gotta go over there." "I know! I just play a moron; I'm not an actual moron!"
What sort of material can we expect on the upcoming tour?
I'm trying to deal with the hard-hitting issues of, you know, recycling. It's weird-if you described my topics, I think it would not encourage people to go to the show. It's trying to make the mundane funny. It's a lot of "lazy guy" kind of stuff, but hopefully really funny.
More like this story on Lawrence.com