So listen to your radio
most each and every night
'cause if you don't I'm sure you won't
get to feeling right
- from "Heard it on the X" by ZZ Top
There won't be any more ZZ Top heard on Lawrence's X 92.9 FM.
This month the classic rock station changed to a format of "active rock," which means listeners can expect about two-thirds contemporary artists such as Godsmack and The Red Hot Chili Peppers, as well as cuts from bygone '90s acts such as Nirvana and Alice in Chains.
But the more compelling news is the station pledges to embrace the local music scene.
"This market - as most anyone who's lived here very long understands - is different than most markets in the United States. The need for a rock station to cater to local bands is in great demand here," says Ron Covert, general manager of X 92.9 FM.
Covert says this will eventually take the shape of an all-local music show like 105.9 The Lazer used to feature during its heyday. But already X 92.9 is encouraging area bands to start a relationship with the station using modern technology.
The station has created a spot on its Web site at www.x929.com called Local X, in which bands can upload their own music and make it accessible to radio listeners.
"We're going to break some rules as far as local music goes," says Jon Thomas, program director of X 92.9.
Part of that rule-breaking will include placing these area acts into regular rotation - which really hasn't been done by a regional commercial station since The Lazer sold out to corporate America in 1999.
"I want to make more of a commitment to local music to where we're doing it on a daily basis," Covert says. "Local means not just the bands from here but the bands that are coming here. We want to make sure we highlight those as well."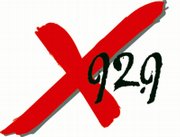 ... but with some limitations.
"If we get somebody like Split Lip Rayfield, they're a great band with a great draw," Covert says of the Wichita punk-bluegrass act. "But they don't really fit the station. Am I going to put one of their songs in rotation? Probably not. But if it's something that fits the feel of what we're trying to do, then yes."
The format shift has many in the Lawrence community wondering if X 92.9 will ever be able to recapture the magic of the old Lazer.
"That's the main question we get asked," Covert says. "I have to say a yes and a no. We're trying to capture more of the attitude but not necessarily the music. I don't ever want people to think this is the old Lazer reincarnate, because it's not."
The Lazer connection is difficult to ignore, since part of the ownership block is the same at the new station. Jerry Zimmer, who took over X 92.9 in June, was part of the original Zimmer Radio Group that bought out KLZR eight years ago. But he has since broken with that namesake company to go solo.
Zimmer has already instituted some technical changes at the 50,000-watt station, such as moving the signal tower closer to Lawrence and introducing the ability to broadcast in hi-def.
Covert says, "When I moved here two and a half years ago, this is pretty much what everybody told me we needed in the market. If I had listened to everybody back then we would have done it a long time ago."