Photo Gallery
Style Scout: Kim Callaway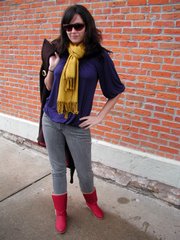 Kim Callaway
Style Scout has been accepting applications for apprentices, and Kim enthusiastically applied. Part of the application process involves a dose of Style medicine-Kim had to submit to a Scouting to better understand the process. Then she got to choose, interview, and photograph her page partner-she chose Wes Sharpton. Style Scout readers are encouraged to weigh in on Kim's debut-log in and post comments in the online version of Style Scout.
Age: 26
Hometown: Born in Columbia, Mo., raised in Spring Hill, Kan.
Time in Lawrence: 7 years
Occupation and/or major: Masters in Sociology, works at Pachamama's and the Bourgeois Pig.
Where was/what doing when scouted?
Slinging coffee at the Pig. It's a normal Sunday afternoon. Patrick's typing away on his black computer.
Favorite clothing store?
I like H&M-Swedish;, like the IKEA of clothes. Trendy affordable stuff. I buy their stuff in New York, Chicago, or Europe. In Lawrence, Wildman probably. It's pretty cheap for good vintage clothes. Real good deal for boots-in consideration of Ebay or big city vintage stores. Probably half my clothes are vintage. I like vintage high-waisted pants because they keep the muffin tops in.
Other stores you frequent?
Pita Pit. Tuesday is $4.99 Pita, chips, and drink day-a way to give back to the customers. I went to Ernst Hardware to paint my bathroom purple. That was fun. I do love Target, and they have badass chicken strips. Joe's Bakery, after a good workout:
How would you describe your style?
It varies. Depends on what mood I wake up in. But it doesn't matter because I always look great. It's a mix of classic and modern. I just like to change it up.
Favorite trend for this season?
I'm digging on the short dresses, tights, and boots on women. I like tight, tight, super-tight skinny jeans on younger boys, so you can see the whole shebang. I always love scarves. Hats! Furry hats. Hats are good all the time, really. For little dogs, I like initialed fleece jackets.
Least favorite trend right now?
Wearing open-toed sandals, no tights, and mini-skirts in winter.
Ugg boots are hideous. They went out of style three years ago. Those patchwork hippie pants and skirts-give it up. On men, I don't like really baggy jeans-because I like real tight ones.
Where do you get your haircut?
At Headmasters by Wesley Sharpton (said with a British accent). Brilliant-just look at my hair. My hair is coarse and big. I love my hair but I wish it was a little softer. That's not Wes' fault.
Favorite coffee shop in Lawrence?
Oh, Pig. I like the vibe. How do I capture the essence of crazy people on the afternoon shift? A screaming woman taking off her clothes in the bathroom. There's that nut job who always wants salt. And I have this crazy laughing admirer I run into every day. I'd like to go to La Prima Tazza more often. I see some hot guys when I walk by there.
Favorite bar in Lawrence?
Pig, Star Bar, Tap Room, Bottleneck when Julia Peterson's working. Downtown can definitely get old after a while. But I keep trying.
Is there anything you'd like to see more of in Lawrence?
Hot boys. At least my height. A prominent nose-not necessary but appreciated. Hair. A job. Nice, but with an asshole edge. That Gael Garcia Bernal from "The Science of Sleep"-he's a little on the short side, but I'd compromise. And I'd like to see the bus system running on Sundays.
Less of in Lawrence?
People that I don't like. And possums. That's it.
Are you a happy American?
I'm a happy person, but to be a happy American would be a stretch. I'd like to see health care for everybody. I'd like to see a more equal distribution of wealth-but that's a pipe dream.
Tell us a secret
I like boys? Kidding. Secret? I don't know: Jennifer Aniston is my best friend. We're plotting to break up Brad and Angelina and take all the babies.
Who's got style?
Julia Shnyra has style. Just look at her-'nuff said. She's Russian, grown in Sweden. I kind of think Nicole Ritchie has good style. I don't think she ever wears the same outfit twice. Jackie Kennedy with those Chanel tweed suits. Gloria Vanderbilt and Diane Von Furstenburg have that weirdo socialite style. Kate Moss looks good on the street. Cocaine or not, she's looking great.
Style = ?
A total look, complete, and well put together. I think some people have the ability to make steaming shit look good. They're working with the clothes and the clothes are working with them. Accessorize! And shoes can make or break you.
More like this story on Lawrence.com