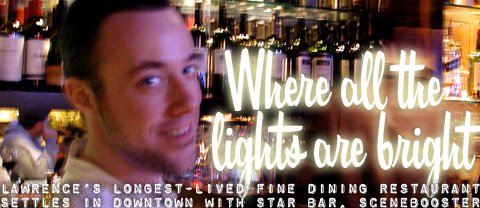 At nine on Friday nights, the sounds of Luxe Soul fill the Star Bar in the back of Pachamama's. Well-behaved patrons of all stripes lounge in plush armchairs, quaffing wine and grazing on artfully presented appetizers. As the night deepens, they dance.
When Pachamama's chef and owner Ken Baker decided to relocate his successful restaurant from southwest Lawrence to the heart of downtown, many foodies in the community predicted disaster. In the year since the move, Baker and his staff have weathered growing pains, public doubt, and unbridled critical disdain.
Street Level settles into a posh booth to talk with Ken Baker and DJ Josh Powers (a.k.a. Scenebooster) about horrible reviews, too much government, and a bright future. And James Brown.
Subscribe to Street Level podcast in iTunes
lawrence.com: Pachamama's is coming up on one year downtown. Tumultuous, bumpy, full of action?
Ken Baker: :I can't speak poorly about any of the bumpy parts. It's been super-rewarding coming down here and seeing so many people coming out and getting more in touch with the dining public here in Lawrence.
When Pachamama's was on Country Club Drive in southwest Lawrence you felt out of the loop. Did it pay off for you, moving downtown?
Baker: Absolutely. I felt like we weren't aiming at the people who needed to see what we were all about. Coming down here has been an amazing transition.
You bought this building and built the restaurant from scratch. Then you had a bad review from the Kansas City Star.
Baker: Horrible review. I wish I could say I was of the opinion that everybody in this business deserves one of them but: Whether it's a wake-up call or not, I can't make excuses for what happened with that review. It was horrible-probably one of the worst days of my life. I'm over it-I know where my heart is. We took stock from it.
Now that you've got your feet back under you, what are your plans for the future?
Baker: We're looking at terminating the old location and moving our catering operation next door. Expanding the kitchen here.
You've been around this town and in the dining scene for a long time. You have a real attachment to Lawrence.
Baker: I love this town. :There's a great work ethic here, which I didn't see in all the other places I've lived. :I've got new purveyors and artisans calling me two or three times a week-the resources in this town are amazing.
What's the menu direction for Spring?
Baker: Spring is all about rejuvenation. Which isn't to say that winter is the doldrums-it's more about comfort and slow-cooking. Spring is about things that pop. :Spanish and Mediterranean food, Indian food, spices: I'm so much more spice-conscious now than I was before, incorporating many different layers of flavor-not just relying on salt, pepper, and butter.
When you were younger, you were learning the vocabulary of food and flavor-your dishes were loaded, you were trying combinations. Now you're getting to the essence of things.
Baker: To me right now, it's more about the main ingredient and what directly complements it. Anything else is either a surprise or a pleasant awakening. The menu needs to set a tone. It's something we change every month.
Recurring event
Pachamama's , 800 New Hampshire, Lawrence
All ages / Free
Changing menus every month-that's your trademark. Statistically, that's one of the riskiest things you can do in this business.
Baker: There's always the considerations of seasonality and freshness, but ultimately what happens is my staff is learning every day. There's no stagnation. The staff looks forward to every month when the menu changes. It's all about vitality-when that happens in the kitchen, it gets conveyed to the people in the dining room.
And there's more to a restaurant than just food. You have to create a bar business. You've got Josh Powers DJing tonight, you host art openings:
Baker: Those things matter so much. : We'll be having events like Dinner and a Movie on a regular basis-community-oriented events to encompass everybody. You have to stir the pot, you can't stagnate at all. Guys like Josh Powers are artists.
Josh, do you let the crowd dictate what you play, or do you have a set idea?
Josh Powers: I always try to go by what the crowd does. A night like this is different than my regular nights, which are dance parties. This isn't that kind of atmosphere. Early in the night, there's older people that might not have any interest in the music. So I'll play some good jazz, something that anyone of any age could appreciate. Later on, the crowd gets a little younger, a little drunker, and the music gets more up-tempo.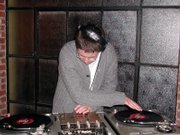 How does such a young man know so much about old music?
Powers: If you learn about James Brown, you learn about funk, and about modern music. He basically reinvented modern music five, six, eight times in the course of his career. Once you learn about James, you start to go a little deeper, into obscure funk. I was working for a while at KU as an archivist for the Dick Wright archives and that was a great opportunity to learn about jazz. I'm just a fan of music-good music.
Good music? That's purely subjective, isn't it?
Powers: There's only two kinds of music-good music and bad music.
Is Britney Spears bad music?
Powers: It's not my music. (Pause) I kind of side-stepped that one.
Ken, now that a year is almost up in this location and the dust is starting to settle, do you think you'll be able to make a reasonable time schedule for yourself?
Baker: One of the first interviews I had was with Pierre Chambrin [White House chef to President Bush Sr.]. One of the last questions he asked me was if I ever planned on getting married. I looked him straight in the eye and said "Yeah." And he said "You cannot do that!" He'd been through four marriages. I still believe I can own this, I can make this happen. I'm not there yet, but I'm not going to burn out.
Do you own this restaurant or does it own you?
Baker: (laughs) I'm not sure.