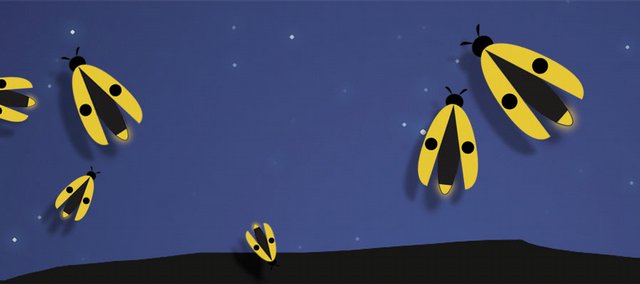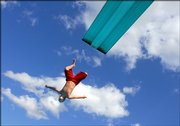 Summer fun
Aah, summertime.
It stirs a sense of euphoria in most of us. School's out, the sun is shining, and the world seems to move at a slower clip.
For Lawrence lifeguard Rachel Barnes, it means more time to hang out with friends, go to Royals games and shop the farmers market. For Gabe Sosman, a Tonganoxie eighth-grader, it means riding dirt bikes. And for Maria Martin, who runs an art gallery in downtown Lawrence, it's all about enjoying fresh produce straight from her own garden.
In homage to this glorious season, we explore some of the elements that define it - from lightning bugs to lemonade, longer days to lingering poolside.
Fireflies
Who among us did not, as a child, commit the cruel act of squishing a lightning bug's glowing tush and smearing its contents on our cheeks like nocturnal war paint?
Offensive? Sure. But we only committed the brutal act because we were so fascinated by the flashing flyers.
Of course, that's the whole idea.
Fireflies light up to attract a mate. They create light within their bodies using specialized cells in their abdomen in a process called bioluminescence.
"It's a simple reaction that produces the light," says Orley "Chip" Taylor, professor of biological sciences at Kansas University, referring to the oxidation of a chemical called luciferin.
Taylor says it's mostly the females who initiate the light display. And there's one species in particular, he says, that engages in an especially devious practice.
"There's a female of one species that will flash to attract males of another species," he explains. "When the males of that species get close, they eat them."
Swimming
You don't have to go to the public pool to cool off in the summer. You can hook up a sprinkler, break out the water guns, head to the lake or make friends with a family lucky enough to have a pool of their own.
Still, Lawrence's city pools become popular destinations when the temperatures spike. The Outdoor Aquatic Center has been averaging 500 to 600 visitors a day this year, says Jimmy Gibbs, aquatics manager, and about 200 people utilize the indoor facility.
"We've had upwards of 1,000 or 1,200 people per day in the past," he says. "A lot of it is weather-driven. It's funny; sometimes it can be too hot to even go outside and swim."
It takes a lot of water to keep that many people cool. The outdoor pool holds 325,000 gallons, and the indoor pool holds 850,000.
Lemonade
Somehow it's more refreshing than plain water in the heat of the summer.
Although most folks get their lemonade from a carton of powder or concentrate, surely freshly squeezed lemons are the best source.
Unlike some of their siblings in the citrus family, such as oranges and grapefruits, lemons are rarely eaten alone because of their high acid content. (Insert puckered lemon face here). So lemons are consumed as an ingredient in cooking and baking, as garnish and as juice in lemonade, carbonated beverages and other drinks.
The U.S. ranks fifth in the world in lemon production behind India, Argentina, Spain and Iran, with production concentrated in California and Arizona, according to the U.S. Department of Agriculture.
Long days
When you're a kid, summer seems magical. The days stretch on forever, and you can run and play until you fall into bed at night, utterly exhausted.
Of course those marathon days aren't the product of hocus-pocus. They're all about astronomy.
In the summer, the days feel longer because the sun rises earlier in the morning and sets later at night. That's because the Earth is at a point in its orbit when the North Pole is tilted toward the sun, which in turn shines more light on the Northern Hemisphere. (The opposite is true in winter.)
The day that the North Pole is tilted closest to the sun is called the summer solstice and marks the first day of summer. That fell on June 21 this year.
Flowers in bloom
Evergreens are steady soldiers in the Kansas winter, and the first mounds of perennial foliage get gardeners excited in spring. But summer's bounty of blossoms can't be beat.
It's still early enough in the season that Lawrence hasn't seen an extended hot and dry spell, so gardens are brimming with color. The proliferation means there's beauty to spare, so don't be afraid to cut some of those flowers and bring them inside.
Here's a look at some common plants blooming now that might work well in a vase on your kitchen table. Combine them with interesting foliage from any plant in your garden to make a well-rounded bouquet:
¢ Purple coneflower
¢ Black-eyed Susan
¢ Daylily
¢ Gayfeather
¢ Shasta daisy
¢ Purple fountain grass
¢ Coreopsis
¢ Butterfly milkweed
¢ Hollyhock
Smell of fresh-cut grass
We love it so much it has become a popular candle scent - joining the likes of apple-cinnamon and vanilla bean.
But just what is it you're smelling when you inhale deeply after running the mower?
Craig Martin, professor of biological sciences at Kansas University, isn't sure exactly what chemical compounds are at play.
"When you cut grass, you're cutting a leaf open and you're exposing fresh cells to the environment," he says. "I think the smell is a volatile compound released by the actual cutting of living tissue."
It's the same process that occurs when you run over wild onions in your yard and notice the vegetable's distinctive aroma.
The reason these scents don't linger in the air naturally, like the sweet smell of honeysuckle, for instance, is that they don't rely on bees and other pollinators for reproduction, Martin says.
No school
This sort of speaks for itself. But it's not true everywhere.
According to the National Association for Year-Round Education, about 3,000 schools had year-round education programs during the 2006-2007 academic year. That's less than 4 percent of all schools, but it's four times the number of students in year-round schools 15 years ago.
Students in Lawrence schools, which let out in late May and won't start again until mid-August, might consider year-round education their worst nightmare.
But it might not be that bad. Students in most American year-round school districts spend the same amount of days in class as students in traditional calendar schools - the days are just arranged differently, with smaller, more frequent breaks throughout the year. Summer vacation is perhaps only a month, instead of two or three.
Fresh produce
Here in zone 5, we get a pretty short window for growing our favorite veggies. Lots of folks in Lawrence take advantage of the opportunity.
Maria Martin is one of them.
"Each summer I just look forward to fresh garden-ripened tomatoes. It's part of what we enjoy doing in summer," she says, referring to the vegetable and flower gardens she tends with her husband.
What's so great about growing your own?
"The flavor," Martin says. "If you haven't picked a ripe tomato off the vine and then just taken it inside, rinsed it under water and then slice it and bite in - there's nothing like that."
Here's a recipe for one of the simple ways she enjoys tomatoes from her garden: Slice and toast a bagel. Top it with cream cheese, a thick slice of garden-ripened tomato and a sprinkling of cracked black pepper.