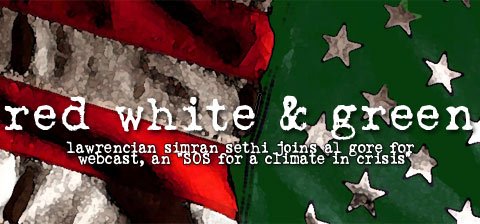 As soon as the smoke clears following this year's Fourth of July revelries, Lawrence eco-journalist Simran Sethi will be in New York helping Al Gore clear the air of less festive emissions. Sethi, blogger for Treehugger.com and host of "The Green" on Sundance Channel, has been tapped to moderate a web-cast forum on July 5th at 12:30p.m. CST with the Oscar-winning former Vice President.
The online Q&A; with Gore will be in anticipation of the July 7th Live Earth concerts billed as an "SOS for a climate in crisis." Live Earth will be a 24-hour music festival spanning the globe featuring over 150 artists with the aim of raising global awareness about a looming global catastrophe. Before jetting off to hob-knob with the hippest almost-President in U.S. history, Simran Sethi joined us to talk about how Independence Day is the perfect time to celebrate independence from carbon-belching technologies here in Kansas, and how being green is being patriotic.
lawrence.com: What's Live Earth and how did you come to be involved?
Simran Sethi: Live Earth is a series of concerts happening all over the world to draw attention to climate change, and I'm very grateful and excited to say that I was approached to produce audio podcasts for The Alliance For Climate Protection, which is the non-profit organization that Al Gore started to highlight the issue of climate change. From there I was introduced to the folks at MSN.com, who are the exclusive web-sponsor of Live Earth. They decided to put together a forum with Mr. Gore and asked if I would be willing to moderate. Of course, I was and am.
Audio clips
Red, White & Green
I doubt you would've said, "Nah, I'd rather not interview a former Vice President."
Yeah, "I'm getting my nails done."
You'll be taking suggestions for questions to ask him, right?
Yes:folks can log on to liveearth.msn.com and submit questions there. The questions that will be posed to Mr. Gore will be a combination of web-questions as well as questions from the audience that will be there live in New York City.
What specifically do you hope to get out of the web-cast with Mr. Gore?
What we learned from "An Inconvenient Truth" was what the problem was and how the problem came about, but I think people are still really working towards understanding what are the most impactful solutions. To me, having an event that spans the globe-concerts are going to be in New York, London, Johannesburg, Rio, Shanghai, Tokyo, Sydney, Hamburg-it's really a way to emphasize the fact that this is a global problem. We need to of course act locally, but to understand that the ramifications of our actions are far reaching. For example, we in the United States are about 5% of the world population, but we generate about 25% of the carbon emissions. Hopefully one of the things that we'll all come away with is a bigger picture and more pragmatic ways we can all work towards a solution.
Will you be hitting the Antarctica concert? That sounds like a hoppin' spot.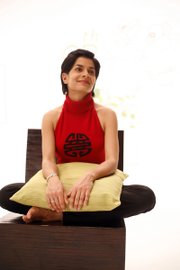 If I could be anywhere, I'd be in Rio because Lenny Kravitz is going to be there. I won't be able to go, though.
Any other artists you'd be interested in catching at Live Earth if you could?
Madonna in London-another favorite-and the Smashing Pumpkins in New York. I had the good fortune of interviewing the Pumpkins back when I worked at MTV News in Singapore. That'll be exciting to hopefully work with them again.
Since Live Earth is on the heels of our Independence Day, are you trying to pitch fighting climate as patriotic and serving America's interests?
Absolutely. I think being more environmentally friendly is one of the most patriotic things we can do. It's an issue of national security to look towards renewable resources. It's an issue of protecting the natural resources that we have, building an economic infrastructure, and becoming once again a world leader in this area.
For me, if you make connections between our use of oil and our entanglement in the Middle East right now: If you want the United States to divest from petroleum and move out of the Middle East, one of the strongest ways to do that is to look at renewable resources here at home.
Kansas has the third largest wind capacity in the United States, but we're not utilizing that to our maximum capacity. One of the most patriotic things we can do is vote and to write our elected officials and tell them what we care about. Governor Kathleen Sebelius has articulated a desire to really build a greener economy within Kansas: If this is something that people care about, then taking some time to write a letter to her office would be a great first step.
Office of the Governor
Capitol, 300 SW 10th Ave., Ste. 212S
Topeka, KS 66612-1590

Is there anything we here in Lawrence can do to fight the patriotic fight against climate change?
How about on July 4th we all try to not get in our cars? There's going to be shuttle busses to the fireworks. I think that would be a really terrific gesture. I know that the Chamber of Commerce is looking in to ways to attract greener businesses. I think that there's so much potential for Lawrence to become a leader not only in Kansas, but through the region and through the country, as a place that has a lot to offer in terms of renewable resources. In academia, KU is starting a center for sustainability. We're seeing a lot of businesses, like Hillary Brown's Local Burger, that are procuring their products locally. I think you'll see a groundswell of interest in this, and it's really about leveraging it and helping people understand it's not just about being a tree-hugger and altruistic. It also makes good financial sense, good business sense, and it's a way to ensure that the planet's going to be around for generations to come.
More like this story on Lawrence.com