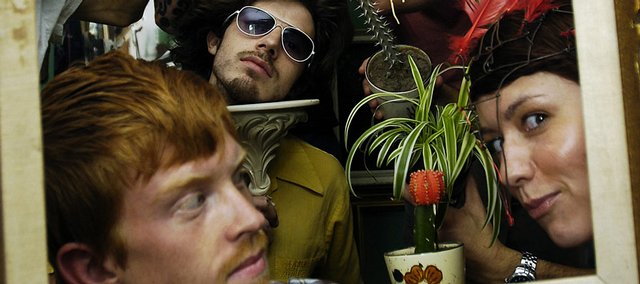 Members of the Fresh Produce Art Collective admit they're pretty relaxed when they meet Tuesday nights.
"We keep some minutes," member Yuri Zupancic jokes, "but they come out as surreal contour drawings."
They might be a laid-back group, but they have some pretty big goals when it comes to the arts in Lawrence. They want to create a community of artists who can both gain creative inspiration from other members and have more outlets for showing their works.
One of those outlets - quarterly, one-night shows at Teller's - has its third appearance from 6 p.m.-10 p.m. Monday. About 25 artists are expected to show their works in a salon-style exhibit on the restaurant's second and third floors.
But it's not a "best of" type show. These are works that have been completed in the past three months, since the last Fresh Produce show - hence the name of the collective.
"It's tough to fill an entire gallery space by yourself," collective member Jeremy Rockwell says. "It's kind of a group portfolio of everybody's best work."
Past Event
Monday, July 16, 2007, 6 p.m. to 10 p.m.
Teller's, 746 Massachusetts, Lawrence
All ages / Free
Combating the 'backlash'
The collective started meeting in January, shortly after Fields Gallery and Olive Gallery and Art Supply closed. That left artists with fewer spots to show their work, and it left many in Lawrence questioning whether the city would ever live up to its former slogan, "City of the Arts."
"I think a large part of our energy is working against the backlash toward the art scene," says Zupancic, a painter. "With the Olive and Fields galleries shutting down in the past nine months, there was a feeling that there aren't places to show art. We were feeling a little dogged about that."
Anywhere from six to 15 members gather each Tuesday at members' homes to talk about their own inspiration and opportunities to promote art.
The first show at Teller's came in February and had the theme "Rich is Love." The second show, focusing on new works, was called "Fresh Produce," and the name stuck.
Whit Bones, a KU art major who serves as an organizer for the collective, says Teller's doesn't request a commission from works sold at the shows. He says about 15 works from the previous two shows have sold, and several members have secured other exhibitions based on contacts they've made through Fresh Produce.
Photo Gallery
Fresh Produce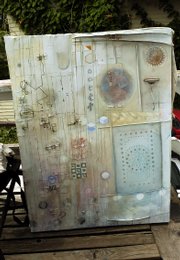 Social networks
One of those is Rockwell, who mixes painting with three-dimensional art. He met an artist through the collective who had extra wall space at a September show at Apex Arts in Kansas City, Mo.
"I've been more productive since we've been doing this," Rockwell says. "There are more deadlines, so there's more structure to my work. It's tested what we can do as artists."
It's also opened some new social avenues. The collective has hosted art-themed parties.
One was a summer solstice bonfire where members were encouraged to make artistic masks to wear. Another was a "pocket art" party, where artists made small pieces of art to trade with others.
An "avant garden" show/party is scheduled for August. It'll be outdoors and have a makeshift sculpture garden.
"A big part of it is increasing the quality of artists," Bones says. "When you're around that sort of energy, you're more productive."
New tradition?
Bones says he'd eventually like Fresh Produce to open a gallery that could double as an open artist studio. Members also are hoping to identify more potential gallery space in town on the walls of other businesses, much in the way the Bourgeois Pig, Milton's, and Wheatfields Bakery regularly exhibit art.
"You have to be creative in your art, and you have to be creative in your career," Bones says. "Not to sound stoic, but to quote Ghandi, 'Be the change you want to see in the world.'"
Bones says group members also would like to secure shows in other cities as a way to spread the word about their group and about Lawrence. He says he's already talked to two artists who are moving to Lawrence - from Kansas City and Phoenix - in part to join the collective.
"I dream that the collective can become a tradition in Lawrence," he says, "that it can become so strong that once the people in it leave, other people can take it over."
Reader poll
It's as strong as ever

6%

13 votes

The closing of the Olive and Fields galleries is a sign that things are weakening

11%

21 votes

The gallery closings are a sign that art sales are hurting, but the artists themselves are still producing quality work

42%

79 votes

Lawrence will never truly be a "City of the Arts"

39%

75 votes
188 total votes.