QuickView
Good: Solid arcade-style baseball action, Rookie Challenge mode, Homerun Pinball, runner/catcher collisions, soundtrack
Bad: Fielding, gameplay proves to be a bit too shallow after extended play
While a more arcade-style approach has worked well for basketball (NBA Jam) and football (NFL Blitz), it hasn't had quite the same success with America's pastime. 2K Sports gives it a try with MLB The Bigs, and it's an entertaining, albeit somewhat shallow experience.
Obviously, no arcade sports title would be complete without the obligatory turbo meter. The Bigs is no different, although it's handled in a different fashion than Jam and Blitz. Rather than one meter that depletes as you hold in the Turbo button, The Bigs features five individual bars that you can fill up by pitching strikes or not swinging at balls. For each bar that you fill up, you can activate Turbo for a quick burst. If you're pitching, it will give you the ability to throw fastballs that would make Nolan Ryan to shame. Batters can hit farther and more effectively, outfielders will suddenly have a rocket arm, and baserunners will sprint much quicker if Turbo is applied.
If you perform enough big plays, you'll be able to activate a separate meter that makes you especially unstoppable. Pitchers will throw insanely fast, and batters will put the ball through the scoreboard if any part of the bat touches it.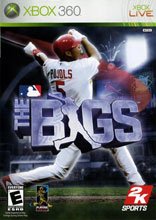 Batting is extremely straightforward. You can choose to either Power swing or Contact swing, and you just have to point the left analog stick in the direction you want the ball to travel. Each player has a rating between one and five stars in the Power and Contact category, and it's fairly easy to hit constant home runs with any player with three or more stars in Power. One fairly frequent annoyance is the way A.I. outfielders constantly perform slow-mo wall jumps to rob you of your home runs.
Fielding is the game's weakest aspect, and it's a hassle to switch between defenders. No one in the infield or outfield seems to react quick enough when you select them, and it's usually pretty difficult to throw runners out from the field. Baserunning is similarly annoying, requiring you to hold the analog stick in the direction you want to run. Switching between runners and trying to get them to go where you want them can be a major problem at times.
There are a couple minor gameplay quirks that I liked, such as the way some line drives will absolutely demolish the pitcher. If there's a close play at the plate, an interface appears that requires you to tap A as fast as possible to bulldoze through the catcher. One great minigame is the Homerun Pinball mode, which features the batter of your choice destroying signs, lights, and taxis in the middle of Times Square.
I really liked the game's main career mode, which is called Rookie Challenge. You create your rookie out of some fairly basic options, and try to upgrade your stats and become a big-time weapon for your team. There are some nice training minigames that break up the monotony of the basic 5-inning games. As you progress, you'll earn points to put towards your Contact, Power, Glove, Arm, and Speed stats. Besides the training and standard games, you'll participate in Stat Challenges (hit x amount of hits with your player and win the game) and Steal Player opportunities. The latter will build a more solid team, which was necessary for me considering I played as the Royals.
The Bigs features player models that are pumped up to a Bonds level of ridiculousness. Some of the bigger names have fairly realistic faces, but it's nothing better than what you're used to with other sports titles. Kauffman stadium looks dead-on, however, complete with fountains and Jumbotron (although there were about 35,000 more people in the crowd than usual).
I was absolutely shocked to discover that it has a pretty solid soundtrack, considering most sports games feature music of the Nickelback/All-American Rejects/Papa Roach variety. Rather than go with the standard modern rock crap, The Bigs gets some nice tracks from Stone Temple Pilots, White Zombie, and Iggy Pop. And even more importantly:..it has Ace of Spades. It's hard for me to disapprove of any game that features Motorhead on the soundtrack.
The Bigs is nothing revolutionary, but it proves to be an entertaining experience for a limited amount of time. After spending several hours with the Rookie Challenge mode, the slightly shallow gameplay starts to grow somewhat tiresome. Regardless, it's a nice title for baseball fans looking for a quick pick-up-and-play arcade experience.
Graphics: 7.5
Sound: 8.5
First Play: 8.5
Replay Value: 7.0
Gameplay: 7.5
Overall: 8.0