1914 — Born Feb. 5 at 4664 Pershing Ave., St. Louis.
1920-1926 — Community School, St. Louis.
1926-1929 — John Burroughs School, St. Louis.
1929-1930 — Los Alamos Ranch School, New Mexico.
1931-1932 — Taylor School, St Louis.
1932-1936 — Harvard University, studies English literature.
1936-1937 — University of Vienna, Austria, studies medicine.
1937 — Marries Ilse Herzfeld Klapper, a wealthy Jewish German, in August so she could emigrate to the U.S. and avoid Nazi persecution. The two see each other socially in New York until Ilse returns to Europe in 1945. They divorce in 1946.
1937-1938 — Columbia University, studies psychology.
1938-1940 — Harvard University, studies anthropology.
1939-1941 — Applies four times to serve in various branches of the military; turned down each time.
1940 — Cuts off finger in late April, perhaps in an act of self-mutilation to impress an unfaithful boyfriend; or to achieve full "transference" with his psychiatrist Herbert Wiggers; or to emulate the Crow Indians' vision-quest rites; or to prove to himself that his Yoga techniques gave him power to ignore pain. Admitted to Payne Whitney Psychiatric Clinic through late May. Then heads to St. Louis.
1942 — Volunteers for U.S. Army at Jefferson Barracks, St. Louis. Accepted as private first class; mental breakdown and discharge by fall.
1942-1943 — In Chicago, working as an exterminator and briefly as a shipping clerk and as an employee-fraud detective. Becomes friends there with young Lucien Carr and Dave Kammerer, both from St. Louis.
1943-1946 — Back in NYC in the fall , working as a bartender and process server for a private investigator. Carr and Kammerer also in NYC; Carr for Columbia classes, Kammerer to be where Carr is. Carr becomes a drinking acquaintance of Jack Kerouac around the West End Bar near Columbia. In late December, Allen Ginsberg introduces himself to Carr (in Kammerer's dorm room). Within a few weeks Carr introduces Ginsberg and Kerouac to his friends from St. Louis, Burroughs and Kammerer.
1944 — In spring, meets Joan Vollmer, former Barnard student and roommate of Edie Parker (Kerouac's future first wife).
1945 — First narcotics addiction, January. Begins relationship with Joan Vollmer.
1945 — Carr kills Kammerer in August on the banks of the Hudson River, at the foot of 115th St. Portrayed as "honor slaying" when Kammerer made insistent physical sexual advances on Carr; they had been friends for five years, since Carr was 16. Burroughs and Kerouac involved (the latter jailed), as material witnesses / accessories.
1946 — Drugs-related arrest in April. Goes to St. Louis.
1946 — Marries Joan Vollmer. Moves with her from NYC to Texas.
1947 — Bill Jr. born in July in Conroe, Texas.
1948 — Moves to New Orleans in June. Soon becomes re-addicted to junk.
1949 — Drug-related arrest in April. Moves to Mexico City.
1950-1952 — Mexico City College, studied Anthropology.
1950-1952 — Writes "Junky."
"The Death of Joan Vollmer: What Really Happened?"
First published on lawrence.com, "The Death of Joan Vollmer" meticulously explores the history surrounding Burroughs' shooting and killing his wife, Joan. Download the full document (1.9MB PDF)In 5 parts:Download pages 1-14 (274K PDF)Download pages 15-28 (576K PDF)Download pages 29-42 (594K PDF)Download pages 43-56 (548K PDF)Download pages 57-70 (187K PDF)
1951 — Shoots his wife Joan Vollmer in Mexico City on Sept. 6 following six-week trip to South America with Lewis Marker. The drug-addled "William Tell" stunt was officially ruled an accident. (See "The Death of Joan Vollmer: What Really Happened?")
1951-1953 — Writes "Queer" (published 1985).
1953 — Yage voyage in South America, Jan-Aug.
1953 — "Junky" published in Aug.
1954-1957 — In Tangier, writing "Naked Lunch."
1958 — Living in Paris in the so-called "Beat Hotel." Begins collaborations with Byron Gysin.
1959 — "Naked Lunch" published in Europe in Aug.
1959 — Life Magazine runs story on the Beats called "The Only Rebellion Around."
1960 — Meets future companion Ian Sommerville. Goes to London.
1961 — "The Soft Machine" published.
1962 — "The Ticket That Exploded" published.
1964 — "Nova Express" published.
1966 — "Naked Lunch" finally gets U.S. distribution after charges of obscenity rejected by courts.
1967 — Future companion and estate executor, James Grauerholz, reads Naked Lunch in Coffeyville, Kansas, age 14.
1968 — Attends Democratic convention in Chicago during summer with Jean Genet, Terry Southern, Allen Ginsberg, Richard Seaver, John Berendt, the convention-coverage team from Esquire magazine. Witnesses police riots against demonstrators.
1969 — Jack Kerouac dies in St. Petersburg FL, October, massive esophageal hemorrhage caused by hepatic cirrhosis.
1969 — "The Last Words of Dutch Schultz" published. Finishes Wild Boys in Marrakech.
1971 — "The Wild Boys: A Book Of The Dead" published.
1973 — "Port of Saints" published.
1974 — Moves from London to New York to teach at CCNY, Jan.-May.
1974 — Burroughs and Grauerholz meet in Feb. 1974.
1976-1978 — Living mostly in Boulder, Colorado, as adjunct faculty at the Jack Kerouac School of Disembodied Poetics of Naropa Institute, but mainly in aftermath of his son Bill Jr.'s liver transplant in Aug. 1976.
1978 — Moves back to NYC in fall, for Nova Convention (11/30-12/4).
1978-1981 — Burroughs living in the so-called "Bunker," 222 Bowery. Becomes readdicted to heroin during the "Lower East Side White-Out" of the late 1970s; the Bunker is one block from the junk-dealer streets of Stanton and Rivington. Working with Victor Bockris on the latter's "With William Burroughs: A Report from the Bunker."
Place
19th and Learnard, Lawrence
1979 — Grauerholz moves to Lawrence in spring.
1980 — Goes on methadone in New York, Aug.
1981 — Son Bill Jr. dies March 3. "Cities of the Red Night" published.
1981-1982 — Burroughs enticed by Grauerholz to move to Lawrence. Arrives at the end of Dec and lives in "Stone House" through fall, where he makes first "shotgun art" works.
1982 — Moves to 1927 Learnard, Lawrence, in Sept.
1983 — "The Place of Dead Roads" published.
1984 — Elected to the American Academy and Institute of Arts and Letters; later that year he was given the order of "Commandeur del'Ordre des Arts et des Lettres" by the Ministry of Culture of France.
1986 — Brion Gysin dies in Paris, July, after long respiratory illnesses. Burroughs devastated.
1987 — "Drawing Dialogue" with Philip Taaffe in Lawrence. Begins painting. Rents studio in the old barbed-wire factory building on Kaw riverfront, to paint and write.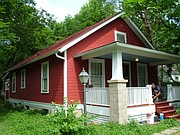 1987 — "The Western Lands" published.
1987 — River City Reunion held in Lawrence, end of August. View event program: small (6MB PDF) | large (16MB PDF)
1987 — First art exhibition in Dec.: Tony Shafrazi Gallery in lower Manhattan NYC.
1988-1990 — Art exhibition openings in UK and Europe.
1991 — Triple bypass surgery, June.
1992-1993 — Steven Lowe in Lawrence, working with Burroughs.
1993 — Featured in GAP ad campaign.
1993 — Kurt Cobain visits Burroughs in Oct., six months before committing suicide.
1994 — Featured in Nike ad campaign.
1995 — Featured in Ministry video.
1995 — "My Education: A Book of Dreams" published.
1996 — Ports of Entry retrospective at the LA County Museum of Art, July.
1996 — Ports of Entry show at Spencer Museum. Nova Convention Revisited at Lied Center, Nov.
1996-1997 — Writing Last Words journals.
1997 — Dies 6 p.m. Aug. 2, at Lawrence Memorial Hospital. Buried on Aug. 7 at Bellefontaine Cemetery St. Louis, Burroughs family plot.
— The information in this time line provided in large part by James Grauerholz