Matt Baum looks like a firefighter: thick arms, thick nose, thick hands. Looks more like a firefighter than an espresso shop owner.
Until recently he was neither. Now he is both. He is giving up his one-time dream, the dream of so many in this town: owning his own bar. He'd spent nearly half a life getting there, going from 18-year-old bouncer in Columbus, Ohio, to 20-something manager of Louise's Downtown to 30-something owner of Limerance in West Lawrence.
And now, three years after reaching the top, he's bucking the bar business in favor of the chance to chase forest fires across the country working as a government contractor. A 34-year-old single man ditching nearly half a life of dark nights for his new dream.
"I'm looking forward to it," he says, sitting with a coffee in his hand in Limerance, explaining that he's leaving soon for his first assignment, probably to fight a fire in Florida-or wherever he's needed.
"It's 100-hour weeks on a fire line with nothing but your pack on our back and whatever tool they give you, which is usually a shovel or a small ax."
He still owns Limerance and plans to tend to the place in winter and early spring when it's not fire season. But he's converted it to an espresso shop.
There are three reasons for this. First, he says, he's been told government departments don't like firefighters who have a liquor license. Second, he says, you have to live in Kansas to have a liquor license in the state, and he'll be spending the majority of the year stationed out of Grants Pass, Ore. And third, he's tired of the bar business.
"I don't really drink anymore the way I did; I'm just out of it. It's over," he says. "I'd been doing it for a long time in one capacity or another and wanted to do something new, something different."
This isn't the first time he's tried to change gears. A few years ago he tried to make it as a professional wrestler. He moved to Atlanta to train with the WCW guys you see on TV. He says he kept getting hurt and was fired before he made it off the training roster. He moved back to Lawrence and returned to Louise's.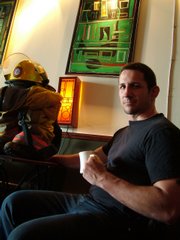 And the firefighting thing, he says, has been an interest of his for more than a decade. One of those things he said he'd pursue someday but kept putting off. It started in 1995 when he was in a bad car wreck at 11th and Tennessee streets-he says a guy ran a red light and hit him. He got to know the paramedics that took care of him and thought, someday, he'd like to do something similar.
More than a decade passed. He tended bar, and managed bartenders, and liked it, he says. One night at Limerance he got into a conversation with a firefighter. He said firefighting was something he'd been interested in, and the firefighter mentioned the certification program at Johnson County Community College, if Baum was serious.
Simply enough, he enrolled. He was one of the oldest students in the program. He became a volunteer firefighter in Lecompton. He says he found the cheesy-sounding ideal he hadn't attained in the bar business: fulfillment.
"It's fun being a part of something that's a real positive, and I wasn't feeling that before with the bar," he says. "Everything from saving a horse out there to helping people with car wrecks and, God forbid, house fires and field fires."
And here he is this afternoon in Limerance. It's been a busy time, replacing all his bar equipment with coffee equipment and redecorating, while finishing the certifications he needs to become a national forest fire firefighter.
Today there's not a customer in the place, but he figures business will pick up once people discover it. And he'll be on his first assignment, working those 100-hour weeks on the line, traveling around the country wherever forest fires need fighting until winter.
"The more I get into it," he says, "the more I realize it's something I should've done a long time ago."