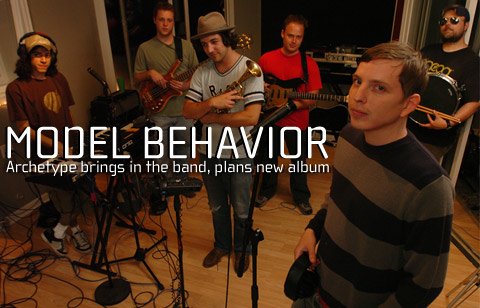 Staples of Lawrence's hip-hop scene since 1999, vocalist Isaac "iD" Diehl and vocalist/DJ Jeremy "Nezbeat" Nesbitt of Archetype take pride in the musical progression both experienced from their first album, Freehand Formula through 2005's well-received Bleed for Them. That sentiment has only strengthened when it comes to their current work on a yet-to-be-titled album slated for release later this year. Between working to fully incorporate a live band into their set, plans to re-release Bleed for Them on Decagon Records and intentions to take their act on the road, this summer will find the group as busy (not to mention prolific) as ever.
Over beers on a nearly-empty Replay patio, lawrence.com digs in with four of the five current members of Archetype about their new sound, plans to tour and record and how the duo has benefited since their expansion.
lawrence.com: Why did you decide to expand to a full band?
Jeremy Nesbitt: We'd always wanted to work with live musicians because we always have live musicians on our records. It was a case of right people at the right time.
Isaac Diehl: The first album we had Ryan [Wurtz] on guitar, as well as the second album... After we came out with the second album, Bleed for Them, we wanted to work with other musicians and thought it'd be cool to add it to a live show instead of it just being the two of us doing our own thing. So we already knew these guys, and we were like 'we got some shows, let's make it a show.'
Jeremy: I guess I met Jerett (Fulton)probably three or four years ago and he was playing with DJNOTADJ and he's always caught my attention-his drumming style is really powerful. I always wanted to play with him ever since then and it just kind of happened.
Jerett Fulton: As musicians, just listening to Bleed for Them, that music just lent itself so well to live interpretation. As a band we've all kind of come together and made a decision collectively-these shows just come together so well and are so much fun and all sorts of good things happen. Nez falls into the drums, people are feeling it, we get really good feedback and all of us really feel how this thing is growing live. We're hashing out new stuff in the studio right now. It's just really fun to bring this music to life outside of Jeremy's ASR (advanced sampling recorder).
How do go about working up songs?
Jerett: We're already about three sessions deep. I think the core of Archetype will always be Jeremy and Isaac but it's just fun that they're letting us come into the fold and they're letting us hear the stuff before and letting us breathe new ideas into it and forming it and expanding it.
Isaac: Bleed for Them was the first time we'd started performing material live with musicians. That album was obviously me and Jeremy in the studio just doing everything between each other and then bringing in a couple of other musicians in to do parts on songs. When we started playing live we started realizing how much more it could be. So with the new stuff we decided instead of just going into the studio, we just did demos, 20 tracks or something? We recorded them really quick, in a few days' sessions so we could pass out copies to the musicians and they could work on them and build on them.
So even though there's some of the rough stuff done when you go in, do you think the music ends up affecting the lyrics?
Isaac: Completely. As far as what we're doing in the studio, playing with the band changes the vibes of the music exponentially. The first session we had was ridiculous. These songs can go everywhere-we could be in the studio five years before we have an album because everyone has so many different tastes and inputs. Initially going into the studio I'm seeing how much rewriting I can do for this stuff. Already I'm reworking the lyrics, saying things in different ways and adding new stuff. It's definitely affecting the songs.
Jeremy: A lot of improve at practice, basically, getting new ideas. Rewriting what we already have.
Jerett: I gotta say that to vouch for what you delivered us-it doesn't sound like it was done in a week. It was so solid and such a strong foundation to build on. That's what helps us progress faster-the building was already awesome to begin with. You only have to do so much.
Isaac: I think it's more where as in the first place, when we were working with musicians on Bleed for Them it changed things more intensity-wise, so we could start doing these segue things in-between songs. This time the beats are completely changing-we've brought in guitar and Tyler (from the Volunteers) on trumpet. The beats still come from the ASR-10 and Jeremy's still on control on that, but everyone playing together changes the vibe and makes it a whole brand new song where we can't go back to the original demo.
How do you think the end result will compare to stuff that you've recorded before?
Isaac: Pfft! It won't.
Jeff: I don't think it will at all.
Jerett: I'm completely excited to see how this hybrid grows. We're all just smiling about it and looking forward to band practice every week. We can't wait to get this stuff out. I haven't had this much fun rehearsing and growing this stuff with a band in a long time.
Isaac: I think the end result will be huge-a whole new entity.