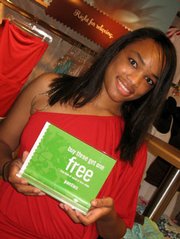 Denise Vann,
21, KU junior majoring in psychology for the time being.
Save:
"I try not to go to fast food places all the time. I work on campus, and there's a refrigerator in the office for me to keep food. Food is more expensive on campus than off. They took out the Burger King at Kansas Union and put in a more expensive hamburger place. But if I do eat out for lunch, I walk to Wescoe rather than drive home, with the price of gas how it is."
Yield per week:
$20 in saved fast food lunches and gas money.
Splurge:
"Clothes. I go shopping whenever I'm bored. I come downtown to Kieu's, Maurices, Envy, sometimes Britches."
Cost:
"If it's a really bad week, I'd spend at least $50. The most I spend on clothes in a week is probably $200."