Photo Gallery
Style Scout: Chris Mears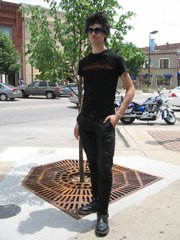 Chris Mears
Occupation and/or major: Student at DeVry University, employee at Amarr Garage Doors
Hometown: Independence, Kan.
Time in Lawrence: 3 years
Age: 21
What were you doing when scouted?
Getting a video at Liberty Hall and picking up some food at Zen Zero.
Favorite clothing store?
Either vintage stores or online. For rock T-shirts, there's a great site called Rockabilly.com. Also, Fuckthemainstream.com has some good stuff.
How would you describe your style?
For the last few years, I've felt like I should wear all black. I woke up one day and felt the need to change all my clothes. I bought $400 worth of an entire wardrobe of black clothes in one summer. I started with more baggy clothes, but that became kind of lame, so I started buying tighter stuff to complement my body type. I don't feel comfortable wearing anything but black. The only time in the last five years that I did was for a play I was in. I've thought about wearing fake blood to work but haven't done that.
Favorite trend right now?
I like it when people buy from vintage stores and then manipulate the clothes-cut them up and reassemble them.
What's something you wouldn't be caught dead wearing?
Long-sleeved shirts. I get hot very easily.
Who cuts your hair?
I go to Static.
Do you wear it the same every day?
I try not to do the same thing every day. I just start manipulating it, and whatever comes out, I go with.
Favorite bar in Lawrence?
The Gaslight, because it has a lot of different kinds of people. I try to shy away from the college bar scene.
Is there anything you'd like to see more of in Lawrence?
Different people. You don't see much diversity here-racial, subcultural, whatever type of diversity. It's Lawrence, but it's still Kansas.
Less of in Lawrence?
Sporty stuff. A lot of people are drawn here by the KU Jayhawks thing.
Who has style?
Bjork is always good. Lisa at Juice Stop always has interesting things to wear.
Style= ?
Your self.