Photo Gallery
Style Scout: Heather Brantman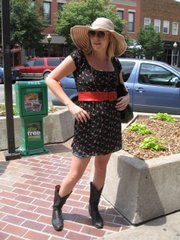 Heather Brantman
Occupation and/or major: Graphic designer for MK12
Hometown: Overland Park
Time in Lawrence: 4 beautiful years
Age: 23
What were you doing when scouted?
Shopping with a friend for her walk down the hill.
Favorite clothing store?
The Salvation Army here was fantastic. They had great stuff.
How would you describe your style?
Two words: Flawed prestige. The notion of matching is a façade. Why do we say one thing matches, and one doesn't?
Favorite trend right now?
I like how everything old is new again. Also, individuality-that should never be stifled.
What's something you wouldn't be caught dead wearing?
An unhappy face.
Who cuts your hair?
Julie Arnold at Images.
Favorite bar in Lawrence?
Replay. With an exclamation point. Above the Tap Room, hands down-for the patio.
Is there anything you'd like to see more of in Lawrence?
Thoughtfulness.
Less of in Lawrence?
'Tudes. I've seen a few this afternoon that need wiped away. Maybe they heard some bad sermons this morning. Fire and brimstone never helped anybody.
Who has style?
Woody Allen. His style is very real and classic. All his clothes are probably four decades old, and he hasn't had to buy new clothes. He still wears the same glasses. He just changes out the lenses.
Tell us a secret.
I clip coupons and never use them. I don't throw them away. I just snip-snip, and never use them.