TOWNIE GUIDE TO: Summer Lovin'
Misti Cox, 27, hair stylist at Beauty Brands.
Years in Lawrence: 12
Other qualifications: Fell in love with her boyfriend here two years ago, and now shacks with him in East Lawrence. They maintain a weekly date night and gag people with their adoration for one another. They just bought their first new mattress set together.
How did you find love in Lawrence?
Scooner night at Louise's Downtown. My friend and I were standing upstairs and she said, "Oh look, rugby players." I was like, whatever. She was drunk, and I was holding my purse, my scooner, a cigarette and her beer. She grabbed my arm, and as she yanked me I was trying to avoid a party foul. I turned, and this rugby player turned around, and I spilled my beer on him. Also, my cigarette went through his warm-up jacket. It was his birthday. I said sorry and bought him a beer. That was about midnight, and we talked the rest of the time. We discovered that my birthday was three days after his. I had just gotten out of a marriage, and he was the first guy I enjoyed talking to. I gave him a ride home, and we sat in the parking lot of his building talking for two hours. Then I had to pee, so he invited me in. That's when history was written.
What are the best places in Lawrence to find summer love?
The bars in the summer are full of local people who want to be outside. On Sunday, Louise's West-they have $3 Bloody Marys, and there's always a lot of people there because of the good patio. Monday, there are a lot of burger night specials that bring people out-like at Set 'Em Up Jack's and Henry T's. Wednesdays, a lot of people go to Fatso's for the specials and awesome patio. Thursdays are Scooner nights at Louise's Downtown, and a lot of people go for the upstairs and downstairs patio. Fridays, we go to Johnny's-it's a good crowd. I've also been finding out that on Friday nights, people are going to the new Mexican restaurant, Cielito Lindo, where they have salsa dancing on the patio.
Where can people have a romantic dining experience?
We really enjoy Teller's, because we can sit outside. And Vermont Street Barbecue. Even though they don't have a place to sit outside, they have the best Bloody Marys-they smoke their tomatoes. We truly stick to downtown. And it doesn't have to be suppertime. We have date night every Friday, and then on Saturday wake up and have breakfast or lunch. We go to Milton's all the time, or Wheatfields. At Milton's, it always feels romantic. We can just sit there and drink coffee after coffee and eat breakfast and read the paper. Not a lot has to be said, but it's a really relaxing time.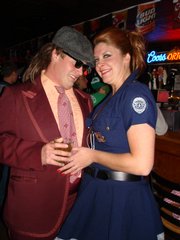 Any romantic spots in the great outdoors?
South Park is really nice-I used to live over there, and we'd go there for a walk and also take blankets and lay and read. It's cool because they have that kid pool, and it's parents with their little kids swimming. Also, the dog park by Clinton Lake. We've met a lot of nice people there. There's so many trails and hiking trails. It's kind of romantic. Also, if you go to the Lawrence Visitors Center over by Johnny's, they give out maps for the old historic houses of East and Old West Lawrence. You can do a self-guided walking tour and learn about Lawrence history together.
What are the craziest Lawrence spots to do the naked pretzel?
South Park. But I recommend late at night. Rock Haven, which is on your way out to Clinton. It's like a little campsite with little trails. You can take horses. We didn't do that-we just walked to the beach and had sex there. Also, the bathroom at Johnny's.
How about outside Lawrence-where do you go nearby for a good date?
For our last date night, we went to Chateau Avalon, a bed and breakfast by the Kansas Speedway. Every room has a different theme. It's the cheesy, corny fun that makes it romantic. We go out to eat at the Legends or the Plaza. BB's Lawnside BBQ in Kansas City-they have a live blues band Wednesday through Saturday. We dance. And by KU Med, there's a Cajun and Creole restaurant called Jazz. There's not really a Cajun place in Lawrence.
Is Lawrence a good town for summer romance?
Lawrence is an active community, and a lot of people are into bike riding or walking everywhere. That's romantic-a lot more time for talking. We'll walk downtown just to get coffee. Those are the most romantic times. Sometimes we don't have a lot to say, but it's the idea that we want to be together. And in the summer, there's a lot more to do-concerts and art in parks. We put my dog Belle on a leash and walk through the Farmers Market. Buying local is part of what makes Lawrence what it is. Downtown wouldn't be as romantic if it was a bunch of big chain stores.