The Wakarusa Music and Camping Festival isn't all about rock tunes and tents.
Friday, the second day of the festival, showed it's also about straight talk on the environment.
Jeff Goodell, an author and writer on environmental issues for Rolling Stone magazine and The New York Times, was the first in a series of speakers at the event, addressing the crowd for about 20 minutes about global warming.
"This is such a huge subject you can't skim the surface in two hours, much less 15 minutes," Goodell said in an interview before addressing the Wakarusa crowd about 7:30 p.m. Friday.
Environmental awareness
Goodell penned "Big Coal," a book that explores how the energy industry, particularly utilities that rely on coal-burning plants, has continued to use an antiquated and inefficient fossil fuel at the expense of the environment.
He pointed out in an earlier interview that the average person is responsible for the burning of about 20 pounds of coal every day. That releases carbon dioxide, a gas that scientists are nearly unanimous in declaring is a contributor to global warming.
Audio Slideshow
Wakarusa 2007, Friday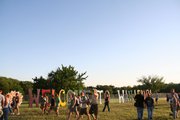 "We're not used to thinking that way about energy and electricity," he said.
The good news, he said, is that changes in attitudes and beliefs are moving toward environmental sustainability.
"I really feel there's a sea change going on right now," he said. "People are starting to see it right in front of their eyes. It's not a theory anymore."
The bad news is the energy industry, he said, is starting to read the tea leaves of this sea change and has been rushing out to secure more coal-burning plants before CO2 regulations happen.
"These guys are playing for an endgame," he said.
In either case, Goodell said he was grateful that the Wakarusa festival provided an outlet for environmental ideas in addition to music and camping.
"This is a great debate that is hugely important," he said.
'Free-spirited' event
But there wasn't only talking that went Friday near Clinton Lake.
The festival entered its second day with more bombast and activity than Thursday as larger musical acts, such as Ben Harper and The Innocent Criminals, took to the main stages and people made their way out of the campgrounds to the festival area.
Brian Walsh was one of them.
Walsh arrived early Thursday in Lawrence after a treacherous two-day trip from Tucson, Ariz., that was mired by two busted tires on the car on the way over.
"There's a whole lot of middle-of-nowhere between Tucson and here," he said.
But he said the experience two days into the festival was worth the hassle of the drive, particularly in the campgrounds.
Past Event
Saturday, June 9, 2007, time TBA
Clinton State Park, Clinton Lake, Lawrence
All ages / $119 - $435
"It's free-spirited," he said of the camping experience. "People get along generally really good. Half of them are drunk, so that's good."
And the music, he said, isn't bad, either.
"You can't go wrong," he said. "You can see this good band or that good band."
Crowd of 12,000
Organizers said the crowd held steady near 12,000 people as of Friday afternoon, although there appeared to be many more people milling about the festival grounds Friday than the day before.
It hasn't hurt that the weather has been nearly perfect for the festival so far.
"The weather has been magical for us," festival organizer Brett Mosiman said.
The behavior of concertgoers has been mostly pristine, according to law enforcement officials.
Lt. Kari Wempe of the Douglas County Sheriff's Department said Friday afternoon that a 21-year-old Linwood man booked on suspicion of possessing marijuana with an intent to sell had been the only arrest after a day and a half of the festival.
Authorities also removed four people from the festival, two of them minors in possession of alcohol.
"So far it's been pretty good," Wempe said.
It's also been good for vendors hawking items from cold beer to artwork.
Walter Jeffers, a hammock-vendor who made his way from Asheville, N.C., said sales had improved consistently since Thursday evening.
"It's definitely starting to pick up a bit," he said.
"(Thursday) it was a little slow, but by sundown, it was jammin'."