Some of Kansas University's more than 10,000 collected ethnographic artifacts will begin showing up in an exhibit this summer at the Spencer Museum of Art.
"They're flashy," interim curator Tom Foor said of the items, which include clothing, masks, weavings and artwork.
The museum took over stewardship of the collection, which is housed in Spooner Hall, in January. It includes artifacts collected by legendary KU anthropologist Lewis Lindsay Dyche and Sallie Casey Thayer, whose original donations of collected art established the KU Museum of Art in 1928.
Access to the artifacts has been limited to scholarly research since 2002 when the Museum of Anthropology closed due to budget cuts.
Plans include integrating a few artifacts, most made in the 19th and 20th centuries and collected in North America, Latin American, Africa and Australia, into the Spencer's 20/21 Gallery in late July.
"When viewers come in, they will be thrilled by the quality of the objects that have been selected for display in that gallery," said Saralyn Reece Hardy, the Spencer's director.
KU arts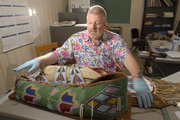 Hardy said the Spencer would soon begin conducting an international search for a permanent collections curator. "It will need to be someone who understands how anthropology and art come together in museums," she said.
Foor will be returning to the University of Montana, where he retired as an anthropology professor, likely at the end of the summer. His wife, Peggy Kuhr, has been named the journalism dean at Montana. Since 2002, she has served as a KU professor and Knight Chair in community journalism. For two years, Foor has served temporarily at KU as curator of the ethnographic collection and worked to oversee repatriation of American Indian objects.
"This is just an outstanding collection, and for the pieces to see the light of day again and for the people of Kansas to be able to appreciate the collection, I think that's just wonderful," Foor said.
He also said a full-time collections manager would be hired soon to help manage the Spooner Hall collection.
In the past few months, many of the ethnographic items have been put back into a newly purchased cabinet system to help with preservation. Foor said most of the North American artifacts are now in the better-organized cabinets. He and staff still have two more phases of the organization to complete.
"These collections are now treated with the same priority as objects in the Spencer," Hardy said.
Planning will continue on how to involve the artifacts in more exhibits, and museum staff also hope to gauge opinions from leaders at Haskell Indian Nation University and other organizations.
"We want to stabilize them, and then we really want to involve communities because I think there is a hunger to view the objects," Hardy said.