Photo Gallery
Bluegrass Barn Theater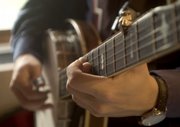 Bluegrass Barn Theater
Upcoming performances
The Bluegrass Barn Theater has shows scheduled at 7 p.m. most Friday and Saturday nights through October. Here's the latest schedule. Concerts cost $8 or $10, with children 15 and under admitted free.Check www.bluegrass barntheater.com for schedule updates.
June29 and 30 - Green Side Up
July14 - Arkamo Rangers20 - Faris Family21 - Faris Family27 - Judy Coder & Pride of the Prairie 28 - Judy Coder & Pride of the Prairie
August3 - Faris Family4 - Faris Family10 - Faris Family with the Martins11 - Faris Family with the Martins17 - Bluegrass Brigade18 - The Prairie Acre25 - Bluegrass Missourians
September7 - Faris Family8 - Faris Family15 - Faris Family21 - Faris Family22 - Faris Family
October5 - Faris Family6 - Faris Family12 - Alferd Packer Memorial String Band13 - Alferd Packer Memorial String Band19 - Faris Family20 - Faris Family
OZAWKIE — The crowd can't contain their hollering as the band onstage sings about mommas, daddies, trains, mountains, Jesus and young love.
It's a Friday evening, and the sun has gone down just enough to ease the June day's heat. Four ceiling fans circulate the air in this old barn, which now serves as the only music venue on Perry Lake.
The barn's back wall was long ago knocked down to give way to a balcony that's built into the adjacent hill. The sides of the balcony open to the outdoors to allow for more breeze, but it also allows the occasional mosquito, barn swallow or raccoon to find its way inside.
Aside from the lighting, stage and speakers, this still looks like a barn on both the inside and out. It's decorated like an old farmhouse, with horseshoes, teddy bears and paintings of owls on the walls.
Bob Faris sees this rustic barn and thinks it just might become a mecca for bluegrass fans.
He and his family band have transformed this site into the Bluegrass Barn Theater, holding concerts here from the spring through fall this year. When the Faris Family isn't in town, other bands fill the concert slots.
"This," Faris says, "is an atmosphere that matches the music."
The Farises - Bob, his wife, Michelle, and their four sons, ages 19 to 23 - have been touring professionally for a decade, averaging 180 road dates a year.
But in leasing the barn at Apple Valley Farms, they're hoping music fans will come to them. The concerts started in May and run through October. So far, they've been averaging 50 people a show, which are at 7 p.m. Fridays and Saturdays.
It's a family-friendly venue, with no alcohol allowed and children 15 and under admitted free when accompanying an adult. Adults pay $10.
"It's an opportunity to see live music where you wouldn't mind bringing your 6-year-old, 8-year-old or 80-year-old grandmother," Bob Faris says. "There are very few family venues where you can see live music."
Reborn barn
The barn hasn't been used for several years. For decades, it housed melodramas staged by Dale Easton and Ric Averill. Its 140 seats often were filled, and the Homestead Restaurant's chicken dinners were known throughout the region.
The Homestead Restaurant is gone now, but the Grainery Saloon 100 yards away serves burgers, steaks and shrimp.
Averill, director of the Seem-to-Be Players at the Lawrence Arts Center, thinks the site is ready for another regular entertainment option. He was involved with the melodramas from 1978 to 1997.
"It should work well as a music venue," he says. "It's a beautiful little theater."
Judy Coder is sold on the theater. She and her band, Pride of the Prairie, played the Bluegrass Barn in May.
"I loved it," says Coder, who lives in Topeka. "My first impression was, 'Oh, this is going to be great.'"
She thinks the site could be a major draw for people throughout the area.
"There's a lot of room for variety," she says. "There's a chance to have something there for everybody. If the quality is good enough, people who have family from out of town will want to take them there."
Branson-esque
The comparison, Bob Faris realizes, is inevitable.
A rootsy music venue on the banks of a lake certainly might remind some people of Branson, Mo., which started as an entertainment capital with a single show in 1959 and now has more than 80 live shows drawing around 7 million people to the area annually.
"I think there's a possibility for that type of thing, although we're not going to be doing the Branson-type show - we're doing an acoustic show," Bob Faris says. "But the idea of family entertainment in a theater in an area that has a draw for tourism, there's a strong comparison. I'd like to see that happen."
He lists the things the Bluegrass Barn Theater has going for it:
¢ There are 1,000 campsites at Perry Lake, with no other entertainment options.
¢ Topeka and Lawrence are only a half-hour away, with other smaller towns even closer.
¢ Bluegrass fans traditionally travel a long way for festivals. With gasoline prices increasing, they might look for options closer to home.
"I like it," says James "Jim Bob" Faris, the oldest son. "It's a covered place. If it does rain, it doesn't have everybody running to their cars."
He thinks the idea could work.
"If it works, we'll be able to do what we want to do and stay close to home," he says. "We can bring people to the county. I'm hoping it does (work). There's a good enough product show-wise that it can catch on."
Musical dream
"We're pleased as punch that you're here, and to try this out this year," Michelle Faris says to the Friday night crowd.
The band is working its way through its quiver of traditional bluegrass, original and gospel tunes.
At intermission, audience members are asking the band how they can help get the word out about the Bluegrass Barn Theater.
"I love the venue," says Bill Hamlin, of Eudora. "This has been a surprise. This is a treat."
"Especially Lawrence has so many people interested in this sort of thing," says Sara Mercer, who lives in Ozawkie. "This is my type of music. The bluegrass, the family, the old barn atmosphere - it's everything that reminds me of grandma's house."
Bob Faris says the family has committed to organizing this season and next season at the Bluegrass Barn Theater. By then, he says, the band will have an idea for how much interest there is in bluegrass music and the old barn.
"It's been dark for a while," he says of the Bluegrass Barn. "It's such a cool place. We want to do this for bluegrass music. We'll either do it and be successful, or do it and put this dream to rest."
More like this story on Lawrence.com