Photo Gallery
The art of Janet Satz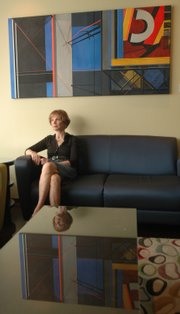 On view
What: "Urbanscapes," by Janet Satz
When: Through July 6
Where: Pachamama's, 800 N.H.
Janet Satz feels like a voyeur when she visits the city.
Whether she's in Chicago, where she grew up, or New
York, where she lived before moving to Lawrence, she often finds herself glancing into high-rise windows while riding the train into the heart of the metropolis.
"There's always something going on, something behind the facade," Satz says. "I find the city is very mysterious."
She attempts to capture that mystery, as well as the energy and constant motion of the urban environment, in her latest series, "Urbanscapes," on view through July 6 at Pachamama's, 800 N.H. The pieces are collages that combine manipulated photographs, lithographs, painting, tape and thread.
They're a departure from her last exhibition, which featured geometric paintings on canvas. The shift happened quite by accident, after Satz discovered some old photographs she'd taken in Chicago and New York, enlarged one of them and transferred it to acetate.
"I ran out of time, and I threw it in a drawer," she says. "When I came back, this acetate had landed on a lithograph of mine, with various colors underneath, and I said, 'Oh, I like this.'
"Something clicked - that rare moment when something unexpected points the way to a new concept."
'Fun to play with'
Satz' collages play tricks on the eye. Swaths of color seep from behind fire escapes and overlay skyscrapers dwarfed by bridges and train tracks. Thin strips of colored tape emulate light and movement. The works, with their multiple layers, seem to vibrate on the wall.
"I also try to show a variety of viewpoints," Satz says. "You can't decide whether you're looking down or looking up or coming in from different angles."
That same sense of play informed Satz' last body of work, "Modular Series," which consisted of large-scale paintings created by arranging several small canvases. In an exhibition a year ago at Fields Gallery, which has since become an online-only operation, Satz created 3-inch models of each piece so that gallerygoers could rearrange them.
"The reason I started the modular pieces is I used to work gigantic, and I got tired of lugging. It was easier to break it up," she says. "That was my initial concept, but then it really evolved into, 'Oh, this is fun to play with.'
"You can change them around. You can move them. You can stack them. You can turn them upside down."
Sheila Wilkins, manager of Fields Fine Art, which represents Satz in Lawrence, appreciates the energy in the artists' latest work.
"It's really exciting, with bright colors and architectural elements," Wilkins says. "And her attention to detail in her work, her craftsmanship - it's just really good quality work, putting all those pieces together."
Full circle
Judi Geer Kellas, a Lawrence artist and former gallery owner, first became familiar with Satz' art in 1997 while serving as juror of an all-women's exhibition in Atchison.
"Her work is even better than it was 10 years ago," Kellas says. "The city pieces have a personal yet universal vision. They are very architectural, with geometric blacks and grays, and splashes of brilliant color.
"They speak volumes to anyone who has lived in or visited a city."
Satz fell in love and moved away from the hustle and bustle of metropolitan life in the '80s; her late husband was a businessman in Topeka. She says she misses the city but goes back often enough to get her fix. She even enjoys the "wonderful buildings" in Kansas City.
Throughout her career, even when she wasn't a full-time artist, Satz has worked in art-related jobs. She served as director of education at the Stamford, Conn., branch of the Whitney Museum of American Art and art director for the National Society for Crippled Children. She also sketched fashions for Women's Wear Daily, "the bible of all fashion."
She has artwork in the collections of the Spencer Museum of Art, the Sprint Corporation and the Smithsonian Institution (a wooden egg she painted for the annual White House Easter Egg Roll during the Reagan administration).
In some ways, her Pachamama's show brings her full circle. While studying painting at the University of Illinois at Chicago in the late 1950s, Satz often would create work in the midst of the city's hectic thoroughfares.
"I would go down to Rush Street and just sit on the curb and sketch," she says. "So it's interesting to look back because I was always involved with that - doors and windows - and it's making a full cycle, coming back in a totally different way, of course."