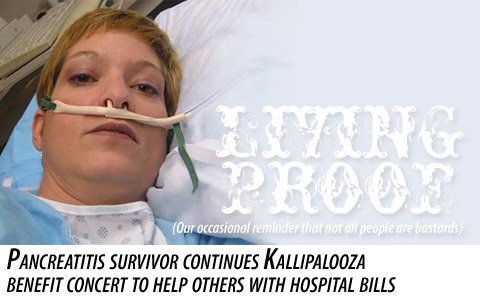 A pleasant slice of conversation over lunch with Kalli Sanders at Java Break:
Back when she had pancreatitis, there were about 12 months straight when she always had some kind of unnatural hole in her body-like a drain, an incision, you get the picture.
"It was just (groan) arduous," she says. "I had a feeding tube a couple of different times, trying to stop me from losing weight. It didn't work. It was just a nasty thing. I was so sick for so long that I just needed an unbelievable amount of help."
Sanders got sick in May 2005, and over the next year went through a complicated medical crisis that included 18 hospitalizations, two major surgeries, losing 100 pounds and developing diabetes.
Today the 37-year-old Lawrence resident is healthy and back to work as a support services coordinator at The Arc of Douglas County.
And after her friends organized "Kallipalooza," a benefit concert to help pay her bills a year ago at Liberty Hall, she's paying the favor forward by organizing "Kallipalooza II" to benefit a local woman with cancer.
During Sanders' ordeal, a group of friends-and an unofficial group of Lawrence do-good women who call themselves "the goddesses"-helped her out in countless ways, from taking her to the salon to style her hair when she wasn't able to take a shower to simply handing her cash.
Past Event
Friday, July 6, 2007, 7 p.m.
Liberty Hall Cinema, 644 Massachussets Street, Lawrence
All ages / $10
When one of her friends put on Kallipalooza last July, she decided that if she were healthy enough this year she'd organize the show herself for someone else. She now says she'd like to hold the show every year, picking a new beneficiary each time.
Through Health Care Access Clinic she found a Lawrence resident-whose identity she's not releasing-who was recently diagnosed with cancer for the third time.
"When I met that woman, the beneficiary," she says, "she was kind of sad and scared, of course. And I just thought, 'Man, if we can do one little thing for her and give her some money or whatever just to make life easier, even if it's for a couple months, I would just feel happy knowing that she knew some people cared and came together.' "
As for Sanders, she will never be able to drink alcohol again, but otherwise life is going well.
"Getting sick, I can honestly say at this point, was a gift, because I look at things so differently," she says. "Little things that used to drive me crazy don't. I just have a different attitude. I'm very thankful for what I have and for the people in my life."
One last thing.
In November, Sanders received word from the Mayo Clinic that she had made a full recovery. Still, one of her doctors said she might want to get on birth control, because pregnancy might not be safe in her condition.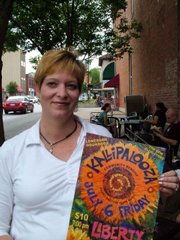 In February, on the day she went in for birth control, she found out she was pregnant with her first child.
"I was just barely healthy and then-boom-I got pregnant," she says. "I'm going to be a single mommy. Talk about life throwing you little curveballs."
Sanders is seven months pregnant now, and she says the baby is doing fine. She's naming her Grace.