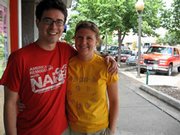 Luke & Lori Sinclair,
second-grade teacher at Bonner Springs Elementary, and esposo Luke, third-year law student at the University of Kansas. Since they're currently living on one income, they kick it frugal style.
Save:
Lori-- "We split Chipotle burritos, and people make fun of us. We order water instead of soda. We don't really go out and drink a lot. We have board game parties with all our friends instead. And we buy T-shirts at the Goodwill."
Luke-"We rent movies rather than go out to movies. We eat a lot of spaghetti. Anything with a lot of preservatives."
Yield per week:
$60 in saved food and entertainment expenditures.
Splurge:
"We try to go out to eat once a week. Like at Jade Garden. A big splurge is Schlotzsky's. Getting soda."
Cost:
$20 in foodage.