Niomi Hansen
Occupation and/or major: Graduate student in communications at Wichita State University
Hometown: Wichita
Time in Lawrence: Visits about once a month
Age: 23
What were you doing when scouted?
We both had the day off, so we drove up to Lawrence. We come here to shop at Love Garden and Urban Outfitters-places that Wichita doesn't have. We're on our way to eat at this place called Jefferson's.
Favorite clothing store?
Urban Outfitters.
Other stores you frequent?
Dillons. I love that grocery store.
How would you describe your style?
I try to do vintage with new stuff. No labels. I'm really into pale yellow and green pea soup colors. Greens and yellows for summer. In the fall, it's different.
Photo Gallery
Style Scout: Niomi Hansen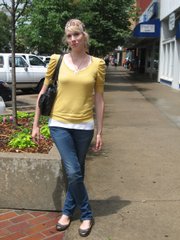 Favorite trend right now?
Owls. They're on a lot of jewelry. I have an owl necklace.
What's something you wouldn't be caught dead wearing?
Crocs. They're hideous. They're so huge. If you're not a nurse, you have no reason to wear Crocs.
Who cuts your hair?
Planet Hair in Wichita.
Favorite coffee shop?
Riverside Perk in Wichita.
Favorite bar?
The Anchor in Wichita.
Is there anything you'd like to see more of in Lawrence?
An H&M.; Also, do you have antique stores? I really like antiques.
Less of in Lawrence?
I can't think of anything.
Style = ? Individuality. You should dress different from everyone else. Obviously.