Photo Gallery
Style Scout: Ronnie Williams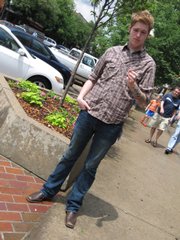 Ronnie Williams
Occupation and/or major: Cowley College student in elementary education
Hometown: Wichita
Time in Lawrence: Visits about once a month
Age: 23
What were you doing when scouted?
When we walked by this Jefferson's place, it smelled really good. We're going to have lunch there.
Favorite clothing store?
Thrift stores. The DAV.
Other stores you frequent?
Hobby Lobby, Target, Michaels. I like to make my apartment look sweet. I also frame a lot of things.
How would you describe your style?
Urban cowboy, minus John Travolta. A guy that listens to Bruce Springsteen.
Favorite trend right now?
Boots. Western-wear. Also, guys trying to look nice. Being classy is coming back. Form-fitting clothes.
What's something you wouldn't be caught dead wearing?
A brand name on my shirt.
Who cuts your hair?
Planet Hair in Wichita.
Favorite coffee shop?
The Vagabond Cafe in Wichita.
Favorite bar?
The Anchor in Wichita.
Is there anything you'd like to see more of in Lawrence?
Hmmm. I don't really know Lawrence well enough to comment.
Less of in Lawrence?
Less chain-link fences with this construction along the sidewalk. Less distance from Wichita.
Style = ?
The clothes you put on in the morning. The person you are.