Kirstin Wiegmann, 26, ceramicist and painter.
Years in Lawrence: 6
Other qualifications: Has a BFA in ceramics from KU. Also has been known to paint murals in Lawrence, Topeka and Mississippi. Teaches at Lawrence Arts Center and helped organize a children's art exhibit last spring.
What are some good Lawrence spots for reflection and being a tortured artist in general? "I like Z's, because they like the trees and avoid Styrofoam..."
How might one meet local artsy-fartsies?
"4-1-1 Art Space. SEED lectures. Spencer Museum "
How might one share her artsy-fartsiness with the Lawrence community?
"I'm gonna be honest here. I don't really like the 'artsy-fartsy' thing. I think it is just another way to categorize, and categories or groups tend to put up walls. Art is already scary enough for people. Trying to break down those boundaries is the way to go. I believe in making art understandable and accessible in any way."
Where can art be found around Lawrence?
"Always, sculptures in the downtown area. Lawrence Arts Commission takes care of those, and they change yearly and are always really great. Especially the green midgets a few years ago. I wouldn't mind seeing more local artists' sculptures from KU students. There are always great shows at the Spencer. The new director is great-the Spencer is so impressive right now and fun to visit. I've heard Solidarity (anarchist co-op located on Mass. Street, details online) has some interesting stuff going on, but I haven't been yet. Love Garden is showing art and music."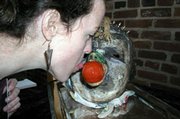 The Lawrence Chamber of Commerce bills the town as a cultured community-is it truly a good place for artists?
"There are not a whole lot of specific places to do this so-called 'artsy-fartsy' socializing. Lawrence is definitely a cultural community but has faced and will continue to face challenges. Recently, many artists have been trying to strengthen the artist community through lectures, like the SEED lecture series, and other events. We could use a few low-overhead galleries to show local and emerging art."