Armando Paniagua realizes he's going against the grain.
He's been working at restaurants in California for 17 years, most recently as chef at a Rose Pistola in San Francisco - a much-lauded restaurant in a city known for its cuisine.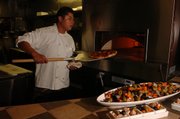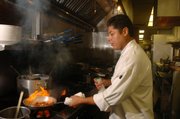 So it might be understandable that his colleagues in California were a bit confused when he announced he was moving to Lawrence.
"Usually people move from the Midwest to California," Paniagua says. "I had friends and the owner of my restaurant react with, 'Why? Why the Midwest?' And I'd say, 'You guys just don't know it.'"
Paniagua is bringing his California training and experience to downtown Lawrence as chef and co-owner at Genovese, an Italian restaurant that opened last month at 941 Mass., in the former location of Mass. Street Deli.
It's the latest offering by restaurateurs Subarna Bhattachan and Alejandro Lule, who also own Zen Zero, and La Parrilla.
Paniagua, who is Lule's brother, is excited to bring his style of cooking to a city he thinks has an appreciation for good food.
"I love food," he says. "I love making people happy. My mom used to cook for me, and I loved what she did. I loved sitting down and enjoying it - it's such a good feeling. I pay attention. If I see (customers) take a bite and smile, it's like, 'Oh, yes!'"
Simple food
Paniagua, a 36-year-old native of Mexico, worked at a Mexican restaurant in California when he moved there in 1990. He worked his way up through the food industry, eventually moving to Italian cuisine.
"I liked the simplicity of the Italian food," he says. "All of my dishes have no more than five ingredients. Most of them just have about three ingredients."
Rose Pistola, like Genovese, focuses on the food of Liguria, a region of northern Italy. Paniagua, who has gone to Liguria twice each of the past five years, says food of the region tends to be simple, with light sauces, to highlight the rich wines of the area.
That concept appealed to Bhattachan, who says he's heard requests for an authentic Italian restaurant.
"It's the cooking of Italy today," Bhattachan says. "Most 'Italian' cooking here (in the United States) is Italian-American cooking - what the immigrants cook - with heavy pastas and sauces."
Different market
Genovese's menu has both fresh-made and dry pasta dishes, most of which follow that theme of light sauces. Simple, thin-crust pizzas also are available.
Meals come with onion focaccia bread (the recipe came from one of Paniagua's excursions to a small Italian village) and antipasti vegetables.
The main difference between the lunch and dinner menus - in addition to a few appetizer changes - is paninis are offered at lunch, and heavier entrees are offered at dinner. Those include a marinated half-chicken, lamb chops and ribeye.
"We're lucky and fortunate to have him," Bhattachan says of Paniagua. "I had to remind him of the customer base here, that he would need to tone it down just a little bit. We have to be realistic about our population base."
Paniagua says that means offering a traditional linguine with meatballs and tomato sauce. It also means cooking pasta beyond al dente.
One advantage of being in Lawrence over San Francisco, Paniagua says, is being the only restaurant in town focusing on the food of Northern Italy.
"I think it's totally different," he says. "In California, you can go and find any type of restaurant. There's a lot of competition."
There's ever-increasing restaurant competition here in Lawrence, too. Just two doors down is Ingredient, which opened earlier this month.
But Paniagua is confident his concept will work, if only because of the focus on authentic cooking and importing ingredients from Italy.
"If you have something originally from the town it was made in," he says, "people are really going to enjoy it."