Mild mannered granola slinger in the Community Mercantile bulk section by day, dashing bon vivant ne'er do well by night, Jess Anthony wears many hats-and false facial hair pieces. Anthony, between bouts of cad-about-townery as her alter ego Sir Bradley, also volunteers her time at the Kansas City Anti-Violence Project (KCAVP), a non-profit organization devoted to advocacy and education about domestic violence and bias crimes in the gay, lesbian, bisexual and transgender (GLBT) community. She's now in the process of planning The 'Stache & Lash Drag Formal as a fabulousness-fueled fund raiser for the KCAVP. Jess/Bradley got all dudded up in top-hatted finery to wax mustachioed with lawrence.com about the upcoming role reversal reverie.
lawrence.com: For those of us who haven't experienced a drag formal before, what should we expect at the 'Stache & Lash?
Jess Anthony: Well, it's going to be an evening of dancing with Dolly Surprise, who will be DJing for us. Three lovely ladies, but I think they'll be looking more like gentlemen for the evening. At some point we're going to have a costume contest for the categories of "Prom King," "Prom Queen," and the "Best Gender Blender."
"Gender blender"? Elaborate:
If you don't feel that either of the two sexes holds what you need to express, go for something in-between-or outside of.
Is cross dressing mandatory for the evening or just highly recommended?
Whoever wants to come can come. If you want to come and watch, have a good time. We have prizes for people that win the costume contest. Local businesses have donated to us:and there's going to be crowns and tiaras-all that fanciness.
Past Event
Thursday, March 8, 2007, 10 p.m.
Jackpot Music Hall, 943 Mass., Lawrence
18+ / $4 - $5
What's the mission of KCAVP?
They do advocacy for people who have experienced or are experiencing domestic violence, sexual assault or hate crimes. We also do a lot of outreach and education:Doug Riley, the executive director, started it because he noticed there was a gap in services that are GLBT-specific. There's not anything like it in Oklahoma, Kansas or Missouri.
Is KCAVP focused mostly on offenses committed within the GLBT community or inflicted upon it by the straight community? Or a mixture?
I'd say it would be a mixture. Typically, with domestic violence situations that we deal with, it's usually a homosexual couple:which is a big part of the reason we were started. I know people have said to me, "Oh, Jess, dating girls must be great because they're so sweet and cuddly, and you can probably just talk all the time." But it's a relationship-there are all the same issues. Like domestic violence, for instance, occurs in the same percentages in the queer community as in the straight community.
So the KCAVP deals with those GLBT issues that aren't normally addressed by traditional organizations?
There are also more specific issues, I think-so far as domestic violence goes-with being queer. For instance, I would say it's not very appropriate behavior to out your partner:that's a way to control them. I think (those issues) are addressed by traditional organizations:at least the ones I've worked with. I think, though, there's another issue that people feel safer going to an organization that is oriented specifically for a certain identity or group of people.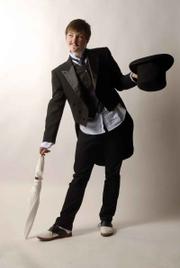 How important are functions like the 'Stache & Lash in raising awareness of these issues?
I would say it's a pretty big deal:but I'm not going to just have KCAVP represented there. I'd also like to get information from Women's Transitional Care Services, GaDuGi, which is the sexual assault organization, and DCAP, the Douglas County Aids Project, as well as local queer organizations.
You're wearing a lovely tuxedo:is this part of a character?
I'm not in character right now, but my character with this outfit is Sir Bradley. He's a bit of a dandy fellow:there's a little bit of Sir Bradley for everyone.
Will there be a lot of people in character at the 'Stache & Lash?
I've talked to a lot of people that are planning on going in drag:I know some women who aren't particularly feminine, but they are going to go in drag as women.
Can I show up in a fake moustache as a more butch guy?
Oh yeah, it's appropriate. I'll be happy for anybody to come. I think it's a good opportunity to come out and have fun, dance-pick up some information if you'd like.