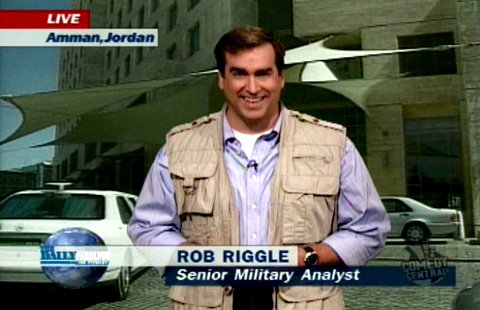 Rob Riggle is nice.
That's not to say that he's overbearingly friendly or phony pleasant. He just doesn't have the monster ego or narcissistic characteristics you might expect from a star on of one of TV's most influential programs.
In spite of his rising stardom-currently as the newest correspondent on The Daily Show-Riggle's clearly maintained his Midwestern sensibility, forged in Overland Park and at KU.
"I love it up there," Riggle says of Lawrence. "I loved KU. I loved my experience there, and I loved being a Jayhawk. I'm still a Jayhawk."
Riggle studied theater and film at KU, graduating in 1992 on the self-described "four-and-a-half-year plan." One memory in particular sticks out: the Jayhawks' 150-95 defeat of Rick Pitino's Kentucky Wildcats on Dec. 9, 1989.
"That whole day was so amazing," Riggle says. "I had been out with my friends the night before, then we rolled into the game and we were all tired but excited because we knew we were playing Kentucky. We really laid it on them hard, then after the game we all went to Pyramid Pizza. I just remember that day as being one of the best days I ever had there, and I have tons of those memories."
He worked on obtaining his pilot's license while at KU, a task that inadvertently provided unusual fringe benefits.
"That was my date package 101, taking a girl for a flight around campus," Riggle says with a laugh. "It was like, 'What do you want to do tonight? Oh, I thought maybe we'd fly around campus.' It was beautiful. Then we'd go out to the Wheel for a beer."
That flying experience was part of what led him to join the U.S. Marine Corps, which gave him a guaranteed flight contract after graduation. Riggle relocated to Marine flight school in Corpus Christi, Texas, where he began training in helicopter piloting. He loved his time in the Marines, but his heart was elsewhere.
"I enjoyed flying, but didn't have a passion for it," Riggle says. "It's hard to imagine me doing something my whole life and not being passionate about it. So I did some soul-searching and decided that what I was passionate about was comedy and performing."
Taking the Plunge
And so Rob Riggle, newly minted Marine and budding military aviator, sat down on a southeast Texas beach in September 1994 and wrote a goal for himself.
"I decided I was determined, and that I was going to get on Saturday Night Live," Riggle says. "I decided that if I leave flight school, and if I leave the Marines, this is what I'm going to do."
With flight school behind him, Riggle secured a public affairs job with the Corps in New York, allowing him to pursue his comedy dreams at night. He performed often with Upright Citizens Brigade, the renowned New York improv outfit, paying his dues and waiting for a break. His efforts paid off in some television and movie work, increased visibility on the comedy and improv circuit, and eventually the phone call he'd been hoping for.
"Ten years later, almost to the day, in September 2004, (SNL producer) Lorne Michaels called me and asked me to join the cast," Riggle said. "It took a long time, but I kept my eye on the ball, so to speak, and I kept working and working and working and eventually it panned out."
Though Riggle stayed with SNL only one season, the experience as the lone rookie in a cast of 14 helped him build connections in the New York comedy world. Most importantly, his tenure on the show allowed him to fulfill a lifelong ambition.
"My whole life, I had dreamed about being on that show," Riggle said. "I always watched them say goodnight and watched the whole cast waving. To actually be on that stage, looking back out at the audience, it was amazing."
In September, Riggle and British comedian John Oliver bested over 1,000 other applicants to become the newest "Daily Show" correspondents. The show deals with substantially more serious topics than he had in his sketch comedy background, but Riggle says the comedy is just as fun and the pressure just as intense.
"There are serious topics, and they're usually fun to play against, but you have to be smart in how you play against it," Riggle says. "At SNL, the schedule was pretty tough. It was like having permanent jet lag. Here you're going live-to-tape, which is still pressure because if you screw up it won't make it out of the studio, but you'll be cut out of the show nonetheless."
"I'm still growing and learning, but it's going well," he says. "The show pays me, and they're going to get the best I've got."
Despite his military background, Riggle has no qualms poking fun at its commander in chief.
"I don't look at jokes about Bush as having anything to do with the military. George Bush is the administration, and the military is the military," he says. "I don't make fun of the military, but George Bush, he's the administration, and no one's above ridicule."
Major Riggle and Comedian Riggle are hardly mutually exclusive-in fact, he thinks the two worlds are closer than most might presume.
"Comedy is not that freewheeling, and the Marines are not that lockstep," he says. "Once you go in the military, that doesn't stop me from being Rob Riggle."