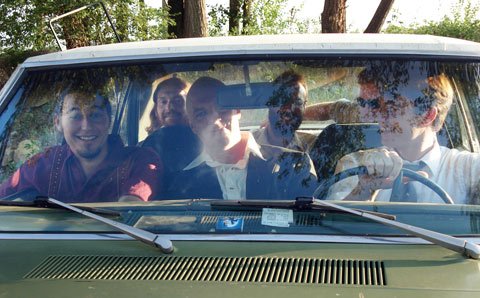 RedLefty calls their music swingin' blues, which is the short way of saying roots- folk- dixieland- bluegrass- country- klezmer- ragtime- hoedown- swing- blues music
The six members of RedLefty-Jeff Williams (guitar), Dan Rempel (guitar, vocals), Chris Millspaugh (harmonica, trumpet), Nate Craft (trombone, vocals), Sean McCue (upright bass) and Tennyson LeMaster (percussion)-initially came together with the intention of making a blues band. What resulted was a unique melding of vintage American styles and genres designed to set toes a-tapping and get bodies to swinging on the dance floor.
Street Level dodges a pack of medium-sized watchdogs to crash a RedLefty practice session and get the poop on head tunes, the sartorial imperative and the notion that evolution is always an improvement.
Subscribe to Street Level podcast in iTunes
lawrence.com: What's in a name?
Dan: Both Sean and Chris have red hair and are left-handed.
Did you unite because you were all swing aficionados?
Jeff: No. I play bluegrass, actually. In the framework of our songs, it'll be like the swingingest jazz song and I'll bust out some honky tonk guitar.
Dan: When we started out, it was a blues band, basically. Every additional member changed it. And then Nate with the trombone changed the whole thing.
Chris: We've been talking about doing some '30s and '40s Kansas City Blues: Lester Young, Charlie Parker:
Nate: Lester Young and a couple of other guys from the Count Basie Orchestra, they have some recordings that were done in Kansas City and are really beautiful. Real simple head tunes and shout blues.
What's a head tune?
Dan: Play the melody once, everyone takes a solo, then back to the melody at the end.
Tennyson: You come back around to the head after the solo.
Your music is truly a hybrid.
Chris: Holy cow; there's so much stuff in our music. We all like different things. Jeff likes bluegrass, Nate brings in jazz and I like vintage blues. Dan likes Willie Nelson, too. Tennyson's a punk rock drummer and Sean's played in honky tonk bands, bluegrass bands:
Tennyson: As we've evolved, Chris' harmonica has taken the place of the clarinet in all the old swing bands. He fills that space with the harmonica, which gives us a unique sound-a big band sound.
You need tuxedos.
Chris: We wear suits most of the time when we play. We want to get back to the time when men wore suits and hats all the time. When people performed, they dressed up for it. And when people went to see a show, they dressed up for it. I went to the Jazz Museum for the first time this past Sunday. They have a quote on the wall that said: "When people went out to shows, they dressed up to the nines. Nowadays, people dress up like they're raking leaves." We'd like to be a throwback to that, where we look sharp while we swing:
(Three dogs enter the room, licking and barking.)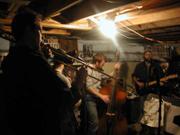 Are more uniquely American forms of music slipping into the mainstream again?
Tennyson: Swing has never died; there have always been good swing bands around. Sometimes you have to seek them out, sometimes there's a wave. The Brian Setzer Orchestra, a few years ago, kind of brought swing back to the public's attention. But there have always been good swing bands-we hope to be one of those. We're not trying to be rock stars-we want people to have a good time and dance as much as possible.
Dan: Thirteen-year-old girls are never going to like our music. We're never going to be on MTV.
Jeff: Our music is more about listening to musicians. For me, I'm just trying to play something interesting every time.
(Laughter. A dog enthusiastically licks Street Level's hand.)
Nate: Some people listen to music because they want to emote-they want to experience an emotion. We're not doing that-we just want to play stuff that swings. It's probably better live than recorded.
Where do you want to go with it?
Dan: For me, the short-term goal is just to be a working bar band. Get guarantees and make money at every gig.
Tennyson: What's already happening is that we're getting word-of-mouth parties and weddings. That's what this band is really suited for-a party, where everybody's ready to celebrate. Playing a concert where everybody's sitting down doesn't suit us so well.
Chris: We're taking our time, working our songs out to where they're really tight, and building our repertoire. Once we're really tight and have enough material, watch out.