Photo Gallery
Style scout: Kate Furst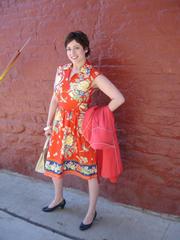 Kate Furst
Hometown: Greenville, Miss., Memphis, Tenn., Cooter, Mo., and Paragould, Ark.-all part of my parents' constant search for the right school system for me.
Age: 26
Time in Lawrence: 5 1/2 years
Occupation and/or major: part of the Wild Man Vintage Crew, Bistro host, seamstress, Dolly Surprise Dance-a-rama DJ extraordinaire, and single Taurus
Where was/what doing when scouted? Walking my doggie Sasha.
Favorite clothing store? Obviously Wild Man Vintage. But why? Because vintage clothes fit my curves and to hang out with the crew.
Other stores you frequent? ATC because they have good jeans and dresses. Goodwill, DAV, and Salvation Army stores in other towns. I also frequent the Love Garden and the Social Service League to fill out my record collection.
How would you describe your style? '50s housewife meets go-go dancer. I like to wear lots of color and old stilettos with simple accessories. But I also just love to wear a hot pair of jeans with a vintage sports tee.
Favorite trend for this season? Men in clothes that actually fit! Too often you see a guy that is an obvious medium wearing and extra large shirt... or jeans that don't fit their butt. I love seeing thin men wear Levi's 517s... MEOW!
Least favorite trend right now? Uggs, sweats, and those awful purses with the sequins all over them. I find it especially amusing when someone throws on all three at the same time. Oh, and everybody and their mother wearing plain old Northface jackets.
Where do you get your hair cut? I always cut it on a whim, a few weeks ago I stumbled into Static and told them to chop it all off and Jessi took good care of me.
Favorite coffee shop in Lawrence?
Milton's because it is right across the street from work. The Pig for Mimosas. Aimee's for breakfast.
Favorite bar in Lawrence? The Tap Room: Laid back or ultra busy, I always have a good time. The Gaslight, the Replay Lounge and Harbour Lights.
Is there anything you'd like to see more of in Lawrence? Later hours for the Saturday Farmers Market. More dog parks. A place downtown to get cigs and milk that stays open till 3 a.m. And a national championship for the Jayhawks this year! Isn't that what everyone wants?
Are you a happy American? No. I don't know what else to say I am happy in Lawrence and am a generally happy person, but I am not happy with America's status in the world right now.
Style= Being comfortable with your body type and finding things that work with it. Bringing classy (not slutty) attention to your assets.
Who's got style? Mark Hurst, cause no one can deny it. Drakkar Sauna because they always look sooo smooth. The WMV clan and the Dollys...hot! hot! hot! And Claire Danes because she always looks so classic-she is especially stylin' in Shop Girl.
Tell us a secret: I wish I lived in East Lawrence, but I live in the Oread Neighborhood and that's ok, too.
Favorite accessory? My puppy Sasha "the wrath of" Kaun. She's half Lab, half Basset Hound, which means I'll have a cute puppy for life!
Food or clothes? I'm not stupid... FOOD!