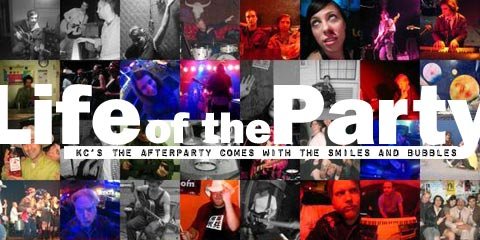 Kansas City's The Afterparty is known for incendiary live sets complete with flamboyant costumes, raucous rock songs and big voices. Apart from the festive atmosphere, though, the band's recordings reveal a far softer side with an affinity for Americana, moody guitars and gentle tri-part harmonies.
The split personality of the band is the result of Danny Fischer's songwriting meshed with the sensibilities of the ever-changing (but always sizable) lineup of musicians behind him. Their most recent, 2006's "Under the Rainbow," largely recorded live, is impressive not only for it's fidelity but for the tightness of the band's sound.
On the eve of their spring tour of the South, Danny Fischer, vocalist Amie Nelson and guitarist David Regnier welcomed lawrence.com over for a chat and a sweet live cover of Kris Kristofferson's "Sunday Morning Coming Down."
lawrence.com: The Afterparty is quite a large band-currently seven of you. How did you guys come together?
Danny: I met Josh [Mobley, Rhodes organ] at YJ's and he was just having some people over to his house to play music. He and I were the only people in the band actually at this meeting:We just started playing together. He liked the songs I was singing and it sounded really good. It was just the two of us. Then I called David: Do you want to play some guitar?
David: Do you want to play some drums?
Album Mp3s

Under The Rainbow
Danny:Yeah, don't bring your guitar because I don't want to hear your freaking guitar. So of course he brings his guitar up and plays the drums for about two minutes. Then he starts playing the guitar, which he's played ever since. Slowly we've been a band for two, three years, maybe people would come to our shows and would be the last ones there, saying they really liked it. They'd tell us "I'm a bass player" or whatever. Like Chris Devictor played bass for us for a while. It was that kind of thing. Then we started asking Paul to play drums : he liked it so he stuck around. We played in restaurants for a while, kind of quiet stuff:.We've had as many people in the band as 12 with the horns.
Whoa. How does practice work?
David: It kind of doesn't. (Laughs.) Hard to get everybody together.
Are you usually practicing then with a few people here and a few people there?
Danny: No, if not everybody can make it we usually don't do it. You kind of need-well, the magic's just not there. You need everybody. One time we covered a Neil Young album and another guy played bass and the girls weren't there. That sort of thing. But with Afterparty stuff everyone has to be there. We've tried without and it just lays flat.
Past Event
Thursday, March 29, 2007, 9 p.m.
Jackpot Music Hall, 943 Mass., Lawrence
18+
Tell me a little bit about your (relatively) new album, how it was recorded and what you were looking for it to sound like.
Danny: Warm and live. We recorded it in two days. A lot of the songs were one take.
Is it a live recording?
Danny: There's like two or three overdubs on that record, like the brass band that couldn't all get in there, or somebody couldn't be there. Yeah, it's live. It turned out pretty cool:.[there] was a lot of experimenting with voices. The Brunettes really started coming together on that.
You're leaving tomorrow for a tour down south. I know you've been before-is there any deliberate regionalism that you're going for or is it coincidental?
Danny: It's close. None of us have a lot of money. I'd love to go to the West Coast but most people have jobs. The regionalism thing isn't important and it'd be nice to do well around here because it's close by and there are a lot of really good bands around here.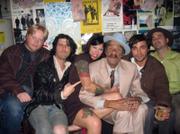 Amie: We knew there were certain bands we wanted to play with and where they lived. New Orleans and Austin are two of them. The Meat Purveyors sort of took us under their wing-that was our excuse to go to Austin. They've helped us build a volume down there. People seem to enjoy it, so we try to make it a point to go regularly.
You've got two Lawrence shows coming up-the Jackpot on the 17th and the Replay on the 29th. A lot's been made of the live performance aspect of your band-what are you looking for people to find in your live performances?
David: Smiles and bubbles.
Danny: They always get so drunk I can never really tell what they're looking at: I think we've stunk it up enough around here that they can't really ignore it.
Amie: We all like dressing up sometimes and being goofy. [The Brunettes] like to do something really dressy to offset the guys' regular clothes. They look really nice, but we like to be fancy.
So with the Afterparty, you guys really want it to be a party.
Amie: Oh, absolutely.
Danny: Oh yeah. We'll make a setlist around what we're doing. Sometimes it's better to do the more upbeat ones because it's a bar. We're trying to come out and make a show of it.