Speaking with a rapid East Coast staccato more befitting a rabble-rousing instigator than a widely renowned reporter, Danny Schechter can barely contain his contempt for the media machine he used to work within.
It's full circle for Schechter, who got his start as a street fightin' civil rights activist in the '60s, then migrated to broadcast journalism with the hope of bringing attention to those social ills he rallied against. He went on to become a founding producer for CNN and won two Emmys while at ABC News. Eventually, growing increasingly frustrated with the corporatization of the fourth estate, Schechter returned to his insurgent roots and turned his considerable journalistic skills against the mainstream media. He founded media watchdog website mediachannel.org and began an alternative media company, Globalvision, which has produced a number of independent documentaries, including "In Debt We Trust" and "WMD: Weapons of Mass Deception," which will be screening at Liberty Hall on March 14.
Schechter spoke with lawrence.com from his New York City office.
Subscribe to Punditocracy podcast in iTunes
lawrence.com: Why did you transition from reporting the news to reporting on how the news is reported?
Danny Schechter: I went from being an outsider, to an insider, to an outsider again. I started in the independent, alternative media culture of the '60s:then I made a transition into television as an on-air reporter in Public Television, and then a producer at CNN and ABC News 20/20. After eight years (at ABC) I began to become very dissatisfied-even though I was able to do some very good work-just with the whole culture. More and more focus on celebrities, more and more show-biz instead of news-biz, less and less reporting on the world, more and more personality promotion. As a consequence, I decided, "Well, let's see what I can do differently."
Past Event
Wednesday, March 14, 2007, 7 p.m.
Liberty Hall Cinema, 644 Massachussets Street, Lawrence
All ages / $2
The idea of mediachannel.org is that, as the media watches the world, we watch the media. So I went from joining the media to spotlight the problems of the world to realizing that the media is one of the problems of the world, and that I could try to do something about it.
We have new media, new blogs, new websites, YouTube, all kinds of other media outlets:that we never had years ago. So in many ways there's more choice today, more sources of information, than there was before. At the same time there's more media concentration, more control by fewer and fewer people. So my conclusion is that the situation isn't very good and that the media, instead of strengthening our democracy, is actually threatening it.
According to your documentary "WMD: Weapons of Mass Deception," the media not only failed to do its job in the run up to Iraq, it helped precipitate the war.
The media was actually becoming a cheerleader for the war as opposed to a reporter of the conflict. In fact, I learned that out of 800 experts on the air in the United States on all the channels, only six criticized the war. There was like a consensus group-think. Everybody was on message and basically supporting the war that the Bush administration was promoting with massive lies, including weapons of mass destruction, the Osama/Saddam connection, all of which turned out not to be true but [were treated as] true in literally thousands of news reports.
That's when I decided as a filmmaker, "Show this. Let's show it to the people." The first thing I found out was that nobody was going to fund it, nobody was willing to distribute it, no television channels were interested in a critique of the media, so I had to find independent sources of funding:but I did it and the film has now been shown in 39 countries, which is quite an achievement for an independent documentary.
This is a continuing issue:we went from saturating coverage of Iraq to almost no coverage of Iraq.
You think that the media is just as responsible for getting us into Iraq as the Bush administration?
I do, and I think this is a point that many in the anti-war movement don't see:constantly protesting the same issues without really looking at how this war was actually created in the media, how the media was used to mobilize public opinion, how the media was used to mobilize people to join the military-how this whole thing was marketed and sold. In fact, (former White House chief of staff Andrew Card) said it was like launching a product line. They were very conscious of that and using what is called "information warfare" to their advantage, but many people on the left couldn't see it.
We live in a corporate system:and the corporations, with their money and their power, are often shaping the ways policies are made. In this case, the media companies:are corporations, they are profit-making institutions. We have a very commercialized media system and that media system knows that war is good for ratings, war is good for generating revenues:the media rallied to the war and they were able to use it as a tremendous programming tool and device.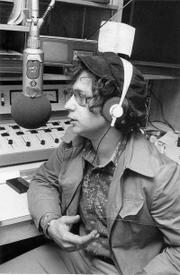 Could it be that the media-to the degree that it's complicit-is just lazy, or do you believe that there was a more sinister, war-profiteering motive?
The media companies themselves had an interest here. At the very time the war was starting they were lobbying the FCC for more changes that would allow them to buy up more stations and actually grow more powerful. So there was a sort of quid pro quo:with the FCC saying, "You guys wave the flag, and we'll waive the rules." Michael Powell, of the FCC, did go and promote a rule change which was later rejected.
Were they lazy? Of course they were lazy, but it's no more lazy that they've been on other subjects. I mean, two weeks ago the biggest news story in terms of air time in America was Anna Nicole Smith. While Iraq was exploding and the Congress was rebelling, Anna Nicole Smith got most of the coverage. This is a pattern. This is an institutionalized problem.
The New York Times and The Washington Post have both admitted that their pre-Iraq coverage was woefully underdeveloped-has the media learned any lessons?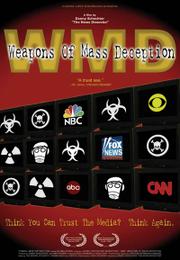 We see the same problems and the same dynamics today as the administration seems to be trying to get a consensus or get support for war with Iran, so some of the same tactics are being used. In other words, I don't think the media has learned a lot:
That's why I'm writing books and making films like "WMD," to try to get people to pay attention to this problem and do something about it. It's much easier to feel self-righteous and go to the White House and scream at Bush for being an idiot, rather than take a deviation 10 blocks away and march on The Washington Post and demand that they tell the truth about the war.
We believe in a journalism of participation:to not only challenge the system, but also show that it's possible to do something more meaningful.