For some people, 26.2 miles just isn't far enough. Fortunately for them, people like Lou Joline are around to create "ultra-marathons."
Officially defined as any race longer than a traditional marathon, most ultra-marathons measure at least 30 miles. Likely few ultra-marathons, however, feature beer as a core component of the race.
"It struck me that we had these two excellent breweries in the area-Boulevard and Free State," Joline says. And with that inspiration, the Brew to Brew Run was created.
Consisting of a 43.5 mile mix of pavement, trail, and dirt, the Brew to Brew stands as one of just a dozen annual ultra-marathon events. The race has grown in popularity since its beginning 13 years ago-from 254 runners in its inaugural year to nearly 2600 in 2006. But it's not the competition that keeps people coming back, says Joline.
Past Event
Sunday, April 1, 2007, 6 a.m.
(One-off place), Lawrence
All ages / $15 - $20
"The lure of beer has been our secret," he says. Runners are treated to Boulevard beer before the race and Free State Brewery beer and a gumbo dinner at Liberty Hall afterward.
"For most people, it's just a fun outing," Joline says. For most, the run is treated as a relay- last year, just 54 people completed the run solo-style. Teams of up to nine people may split the distance however they see fit. Awards are given to first place finishes in age/sex-separated categories, but special prizes are given for Best Team Spirit, Best Team Name, and Dead Last Finisher.
Teams such as "The Young and the Breathless," "Idiots Running to Lawrence," and "Drunk on Arrival" often don costumes and perform song/dance routines to entertain the rest of the participants.
Trudy Nepstad was the captain of last year's Team Spirit Award winners, the "AARP-ettes." Running the race every year since its inception, the youngest member of the team is 65. "You holler out the window to your teammate, encouraging her, you know, honk the horn," says Nepstad. Her five-woman team plans on wearing matching hats once again this year, with the only expectation being "just to finish."
Nepstad herself didn't starting running until age 53- in 1982. When she began, "I couldn't even get to the corner," she says. "Every night I would choose a driveway or a streetlight to get to". This gradually increasing schedule has paid off. To date, Nepstad has completed 14 marathons and 3 ultra-marathons on her own. But when it's time for the Brew to Brew, the challenge is a shared one, so the atmosphere is cooperative instead of competitive. "It's really a lot of fun," she says.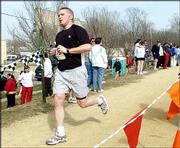 Steve Riley, director of several other Kansas races, agrees. "I'd say the majority of people are just having fun," he says. "There's people who take it seriously and there's people who don't. You can take it as seriously as you want." Even though he and his teammates run competitively, the Brew to Brew always has a relaxed atmosphere. After race flag confusion caused a wrong turn on the Turner Bridge one year, he and other racers just shrugged it off-"that's part of the fun of it," he laughs. The costumes and dances of other participants are welcome, he says. "It gives us something to talk about later."
Proceeds from the race benefit the Cystic Fibrosis Foundation-more than $25,000 was raised in 2006.