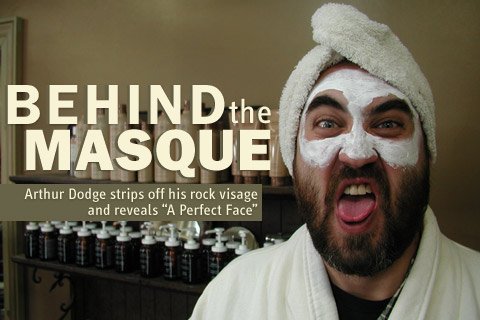 You may know Arthur Dodge as the front man of the stalwart roots-rock unit The Horsefeathers. Or as horny Yuletide lounge maven, Slick Rhodes. Be it the occasional Tom Petty or Neil Young tribute, the ubiquitous benefit show, or an eight-hour, hundred song performance marathon, Dodge is a beloved fixture on the Lawrence music scene.
For new latest release, "A Perfect Face"-ostensibly billed as a solo record, in stores Mar. 20-Dodge gives The Horsefeathers some time off and corrals an all-star line-up of local guest musicians to portray his latest musings on love, desire and the facts of life.
Street Level meets up with Dodge and keyboardist David Swenson on the patio of the Replay Lounge to talk about being and nothingness in Nashville, being an old fish in a small pond, and being only as pretty as you feel.
Subscribe to Street Level podcast in iTunes
lawrence.com: Wilco, Johnny Cash, Neil Young, Paul Westerberg, "Nebraska"-style Springsteen:
Dodge: If you like that stuff, you'll like my stuff, I think.
Swenson: By yourself you're somebody different than with the band. The idea of the solo record was to express that.
Dodge: But still I can't describe exactly what the music is. :I started out with just an acoustic guitar and then I added tons of stuff onto it. A simple little solo record that turned into this 12-headed monster.
Swenson: I played keyboards over the top of most of it. But Dodge started from scratch-acoustic guitar and vocals-and that's the bottom line of all the songs, that stripped-down arrangement: Dodge and his guitar. I think Dodge did a good job of not going overboard with this, because once you start to add stuff, you could go on forever.
Dodge: It went on for a year and a half after I recorded the first demos. That's forever enough.
Why the need to strip down for this record?
Dodge: Well, I've been playing solo for years, just because I like to do it. And people would come up at a solo show and say: "Hey, what's that one song?" I thought it was time to do something that reflected my solo stuff, because the Horsefeathers do not. There are songs that just won't work with the Horsefeathers at all.
Why?
Dodge: Instrumentation, personalities: The drummer's like: "I don't want to play that slow crap all the time." And hot-shit guitar players don't want to play that slow crap all the time either.
Swenson: (laughs) This solo record is all those tunes that Jeremy Sidener (Horsefeathers bassist) didn't want to play.
Dodge: They're songs that wouldn't work for a rock band, and the Horsefeathers are a rock band.
You share the majority of the Horsefeathers' members with the Danny Pound Band.
Dodge: Everbody but Matt [Mozier, guitar] plays with Pound. It works out pretty well.
Swenson: We've done joint tours before. Two bands who are really the same band, and two singer-songwriters-it took a toll on us. The same bands in one club on one night:
How did the audience respond to that?
Swenson: What audience?
Dodge: The bartenders, or the homeless people who wandered in?
Swenson: It was well received by very few.
You get a great deal of praise from national critics. I wonder why, with all that critical support, you're still in Lawrence?
Dodge: It's as good a place to be as any, I guess. I went to Nashville for a year and didn't like it. It wasn't very creative there. There were a lot of really good players, but in the year I spent there I could count two, maybe three songwriters out of the hundreds I saw that I thought were worth a shit. If I'd gone when I was a much younger man, maybe I would have stayed, but I was pretty set in my ways by the time I went. I thought: "I'm not doing this." :I just want to make a living, and tour.
Swenson: I think Dodge needs to sell a couple of tunes. Lucinda Williams is a good example. She kicked around for a long time, then Mary Chapin Carpenter, or someone like that, covered a song and now Lucinda's able to not have a day job.
Dodge: That's part of what being in Nashville could have done, but I couldn't stomach living there to do that.
So being a big fish in Lawrence's small pond is alright?
Swenson: I think it's more like "old fish." (laughter)
Dodge: The big old fish: Sure. I don't mind that.
Eight hours and 100 songs in one sitting?
Dodge: That was fun. That was right before I went to Nashville. That was the Raise Money To Go To Nashville Tour: a dollar a head, from 6 p.m. to 2 a.m. I actually played 103 songs. I went back though all my notebooks and played the songs in the order I wrote them:
Swenson: I remember you selling your lyric sheets out of the notebook.
Dodge: I sold "True Romance" lyrics for 30 bucks. So there you go-I have sold a song. And I couldn't talk for three days afterward.
Slick Rhodes. He's your sleazy Santa.
Dodge: Sleazy? I wouldn't say he's sleazy. He's:
Swenson: He's drunk.
Dodge: He's just a lounge singer, trying to make a buck and spread some Christmas cheer. He does like the ladies.
Back to the new record. Who plays on "A Perfect Face"?
Dodge: Dave [Swenson] was the main player involved-lots of keyboards. Adrianne Verhoeven (The Anniversary, Art In Manila) sang back-ups on four or five songs. Couple different upright bass players: Paul Schmidt (Midday Ramblers) and Craig Aiken from Kansas City-he's a jazz player. Eric Mardis from Split Lip Rayfield played on a song. Kory Willis (Midday Ramblers) played banjo on a song. Scott Walker played tuba-he's the tuba professor at KU. Everbody in The Horsefeathers played on at least one song. Jeff Jackson (Julia Peterson & The Breaks, Volunteers) plays pedal steel and Ed Rose produced a number.
How much input did your label, Remedy Records, have on the music?
Dodge: None. They're there, and they hear it but: I always ask opinions of people that I respect, but if they say: "I really don't like that frog doing those harmonies" and I say: "I gotta have the frog," then they say O.K.
What are you singing about on this record?
The perfect face-everybody's looking for it and it doesn't exist. There's no perfect face. There's no perfect beauty, there's no perfect love. I like serious songs that also have a little line in there that makes you laugh. Not jokey shit, not outwardly ironic-just a little chuckle that makes you think: "Yeah, that's about right."