Photo Gallery
Style Scout: Adam Warnecke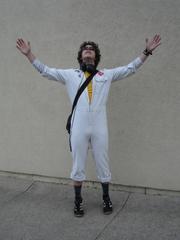 Adam Warnecke
Hometown: Kansas City (born in Illinois)
Age: 26
Time in Lawrence: 6 years on and off for the last 10 years
Occupation and/or major: that's a good question...
Where was/what doing when scouted?
Being abducted by aliens while attempting to hitchhike to next week.
Favorite clothing store?
No. I am terrified of clothing stores. I feel like I am being judged every time I am trying to find something that fits and it isn't working-like why can't I be normal and just find something and leave? I once tried to find one pair of pants that fit and spent 10 hours without success. That's the curse of being a man and having a booty.
Other stores you frequent?
The Merc for fresh produce, Kashi cereal, and australian style yogurt. Liberty Hall because I have built up a rapport with the staff and because they listen to my suggestions.
How would you describe your style?
I oscillate between "regular guy in T-shirt and jeans" and "future revolutionary space captain." I am really into military and industrial fashion even though I'm not into the military or industry.
Favorite trend for this season?
I like all the new democratic computer applications that are coming out and the voice it is giving individuals. The interconnectivity of the internet and the possibilities it opens up for small businesses.
Least favorite trend right now?
Being Caucasian.
Where do you get your haircut?
I get my haircut by Wes at Headmasters. He's helping me make it gigant-a-galactic. He is the only person to give me a haircut besides myself for the last 12 years and he has made me a hair potion addict.
Favorite coffee shop in Lawrence?
No. I brew my own Kombucha instead. Eventually, I want to start selling my home brew Kombucha and have it be everything Lawrence tells itself it loves-local, organic, and reusable bottles.
Favorite bar in Lawrence?
I frequent The Replay because I like to meet up with people and not have to spend a lot to hang out. They have $2 covers, which I consider a "cheep beer tax" and $1.50 PBRs.
Is there anything you'd like to see more of in Lawrence?
I am an advocate of new Urbanism, which is a reversion to urban environments. Lawrence needs to start building up instead of out. Picture an expansive green flat landscape with a cluster of giant tall buildings. Why not build on top of existing buildings? After all, it would be easier to defend from Zombie-pocalyse.
Style = ?
All the bits and pieces of yourself that you want to projectile vomit on other people with out them realizing it. You can control how people think of you with your first visual impression.
Who's got style?
That group of kids who are 19- to 21-years-old at KJHK who just have rock-star style.
Are you a Happy American?
I am completely dissatisfied with the current political system. The bipartisan system is a joke-let's take a hint from Rome and not keep trying to do the same thing. We have to stop thinking we can just vote for someone new to fix things and actually fix the broken system itself.
Tell us a secret...
I am kind of an auto-sexual and totally narcissistic. I am pretty sure I wouldn't be bothered if I never had another deep emotional/physical relationship. I am able to fulfill my own needs and I think that's very healthy.
Food or clothes?
Clothes are a good friend, but food is a sincere and attentive lover.