Photo Gallery
Style scout: Megan Embers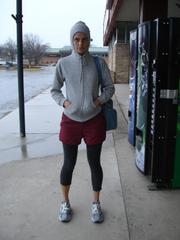 Megan Embers
Hometown: Lawrence
Age: 24
Sign: Gemini
Status: Sporty
Time in Lawrence:7 years
Occupation and/or major: Industrial Design major, world traveller, local celebrity, Athlete
Where was/what doing when scouted?
Running to get a salad and a shot of wheat grass.
Favorite clothing store?
I definitely like Lids, but I love Francis Sporting Goods. Dick's is good too. They have a track inside that you can run around to try your shoes out.
Other stores you frequent?
Cabella's. Sacred Sword-it's just a destination spot.
How would you describe your style?
Athletic. Psychedelic. I just want to impress people.
Favorite trend for this season?
Voter registration and Funky Mama's Hot Dog Stand. The Master Cleanse, which Beyonce really popularized (Did you see her in Dream Girls?) And Lycra socks because they wick the sweat away from your feet which means you can run longer and faster.
Least favorite trend right now?
People having kids. Oh, and global warming.
Where do you get your haircut?
Julie Noyce. She's actually a rock-star and she works at Fix.
Favorite coffee shop in Lawrence?
Well, there aren't really any sporty coffee shops. But I do like the Pig for their Black Magic.
Favorite bar in Lawrence?
It's Brothers for their Thursday night bring-your-own-cup-for-$1-beer night and their really big TV screens.
Is there anything you'd like to see more of in Lawrence?
Athletes.
Less of in Lawrence?
Dogs. I've always hated dogs. My mom got bit in the face by a dog when I was 7.
Style = ?
Whatever Wes thinks.
Who's got style?
Brad Pitt. Tom Cruise. Ben Affleck. Johnny Depp. Tom King. Jude Law. Matthew McConaughey. Fred Savage. Corey Feldman.
Are you a happy American?
Of course not. I don't want to talk about it.
Tell us a secret...
I have ringworm. It started as a spider bite that got infected with ringworm. Then my grandmother gave me salve to put on it that was actually for a vaginal yeast infection. So, I put that on it for about two weeks until the pharmacist at Round Corner told me (awkwardly) that I should switch to Lamasil.
Food or clothes?
Food, to compete in the physical arena you have to eat right.
Did you find out anything about style on your recent trip to India?
I found fashion for women in India to be really oppressive. It's hard to shoot hoops in a dress, you know? You can't show your shoulders or legs without making other people feel uncomfortable. Clothes were an issue for me because I had to consider things that never would have crossed my mind. Because of the cultural difference, something little and unexpected could be offensive. I worked at an orphanage that was located in a conservative area, so mostly I just went with village style and tried for my appearance not to be distracting to the work I was trying to do.