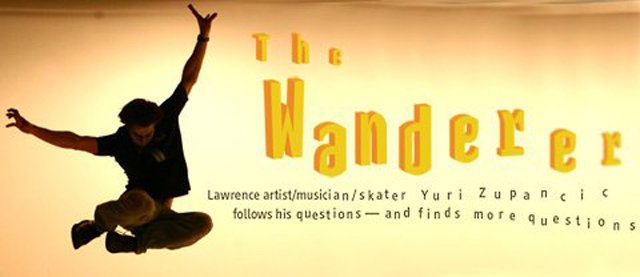 On a morning in East Lawrence, in the house with the motley spray-painted van in the driveway, Yuri Zupancic slugs back coffee at his dining room table. A dead lizard in a mousetrap found at William S. Burroughs' house rests strangely in a glass case on the old piano nearby.
Zupancic is fresh off a 17-day trip to California, where he secured a space to show his art and sat for an interview for MTV's "Scarred" about a skating accident that almost killed him two years ago.
Twenty-six years old with glasses and outgrown dark brown hair, a gentle voice and fresh scabs on his arms, Zupancic plays bass guitar and sings in the band Novalus, rollerblades with the KFC crew out of Kansas City and makes art.
In each endeavor he is proficient enough to be called a professional, but in none does he make a lot of money. He finds other work when the bills arrive and he's short a few bucks. Later today, for instance, he is painting his neighbor's fence.
Zupancic is far from the only person in Lawrence to forge a life from creative endeavors. But even on this quiet morning at his dining room table, this wandering son of a soil scientist and elementary school librarian from Dodge City exudes a sense of fascination-appearing as one of those rare Kerouacian figures barreling toward some end that perhaps only he can see.
He sprints upstairs and carries down a magnifying glass and a plastic case containing two microchips he painted during the trip. One depicts a bright white redwood trillium flower he found in the forest. The other shows a rocky scene at Shell Beach. The magnifying glass reveals a striking amount of detail.
Photo Gallery
Yuri Zupancic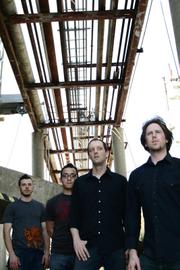 ***
Growing up in Dodge City, Zupancic always had so many projects going on-homemade rocket ships, model airplanes, Legos, drawings-that his parents had to install a counter spanning the length of his bedroom wall to store them all.
"He was a real left-brained, scientific, nerdy kind of guy," his father, John, says on the phone from Sheridan, Wyo., where he and Zupancic's mother, Linda, now live. "He wore a NASA hat for like two years in a row. He was going to be an astronaut."
At about the age of 14 his focus changed. He started playing guitar, drawing more and rollerblading. John says the creative side of his brain seemed to overthrow the analytical side overnight.
At school he continued to excel in math and science. When he received recognition for placing in the top 2 percentile on the PSAT exam, Linda hoped he would become a research scientist.
But as he began to develop his painting-and when his band brought down the house at the high school talent show with a ska version of "Smoke on the Water"-it was evident that not only was he headed in an artistic direction, he was good.
Linda says Yuri's younger sister, an interior designer, shares some of his artistic abilities-though in a more traditional vein-and his penchant for music and skating come from God-knows-where. She speaks of her son like he is an enigma.
"That's what's interesting about Yuri-he could be a million different things." Almost forgot, she adds, he is an Eagle Scout. "That's been kind of a challenge for him. He can't choose which way to go."
***
He did choose one way after graduating from high school: north. A friend from Dodge City who had moved to Chicago told Zupancic he could get him a job in a peanut factory there.
Eager to leave Dodge, he packed his things and moved into his friend's one-bedroom basement apartment, spending his days climbing over monstrous canvas bags of peanuts and cashews to take quality-control samples.
"I wasn't in school and I didn't really know anyone up there," he says, "so I just kind of disappeared into a dusty-well, I can't say dusty, that might hurt the peanut business-just ditched myself in this huge factory in the middle of this huge industrial complex to see what would happen."
Meanwhile, many of his friends migrated to Lawrence. Less than a year after taking the peanut job, he too was calling Lawrence home.
***
After seven years here, his three main ambitions remain the same as when he was in 14 years old: art, music and skating.
Album Mp3s

Modern Ruins
He has lived for several years with Novalus bandmates in a house he rents from James Grauerholz, William Burroughs' longtime friend and assistant. The basement is littered with wires and amps and there's a microphone Zupancic made from Burroughs' telephone receiver.
"It's funny," he says. "Sometimes when I say I'm from Lawrence, people say, 'Did you know Burroughs lived there?' I say, 'Actually, I did know that. I sing through one of his old telephone receivers.' "
***
In seven years he has worked at the Hallmark plant, the Packerware plant, Pearson call center, the Eldridge Hotel for two years-his longest stint at one place-Teller's, Electric Rider, MartinLogan, William Burroughs Communications. These are just a few examples. He also works as a general handyman and does web design and has sold plasma for a few bucks.
When he tires of one job or his services are longer needed, another job always seems to take its place.
"I definitely like work better when it changes all the time," he says. "That and I'm always looking for new inspirations, and new things to make paintings or write songs about."
***
Unburdened by the responsibility of a full-time job, Zupancic has the freedom to tour the country on skate tours or with Novalus, sometimes in the funky van parked in the driveway.
(He bought the van, a 1986 Ford Econoline, for $304-all it needed was a new transmission, which he installed himself, of course. He recently upgraded to a 1991 Econoline for $710, which sits on the street waiting to be painted.)
On trips he's always the one to disappear.
"He's like a wanderer," says Jeremy Stephenson, a friend and freelance skate photographer. "This last road trip, we basically named it the 'where's Yuri' road trip and we pledged to put in $1 every time someone said, 'where's Yuri?' You go to a gas station and in five seconds you're like, 'Wait, where the hell did Yuri go?' By the end of the trip we had like $500 in the 'where's Yuri' pool."
Past Event
Monday, April 23, 2007, 6 p.m. to 10 p.m.
Teller's, 746 Massachusetts, Lawrence
All ages / Free
***
The idea of painting microchips sprang out of a conversation between Zupancic and his friend Jeremy Rockwell, another Lawrence artist and skater, about a year ago.
By "staying up all night, listening to the oddest music we can find and staring at tiny things with magnifying glasses and letting our brains wander down every tangent of visual thinking," Zupancic and Rockwell have nailed down the technique-using the tiniest brushes they can find and traditional oil painting methods.
"I more or less just paint on chips as the classic masters would have painted on panels," Zupancic says. "And it's worth mentioning that the old masters did put as much detail into every square inch of their paintings as I do to this one-square-inch canvas of a chip."
The size of the microchips gives him the freedom to carry them along with him. Add a few paintbrushes, and he has a full studio in his pocket.
Past Event
Friday, April 6, 2007, 6 p.m. to 10 p.m.
Mirth, 745 New Hampshire, Lawrence
All ages / Free
***
Despite all his endeavors, Zupancic's current claim to fame is accidental-a brutal skating wipeout that landed him in a coma. Though he had already appeared in videos and magazines as a member of the KFC crew, a respected group of local skaters, the wipeout spread his name throughout the skating world.
It happened two years ago when KFC was filming at a Kansas City, Kan., school. The trick involved jumping over a set of stairs onto a long handrail, grinding down the length of the rail and jumping over a sidewalk onto a parking lot about 15 feet below the apex.
"It was a pretty huge, dangerous stunt," he says, "but it didn't seem scary to me because I'd done it before, and even harder tricks in the same place."
Zupancic doesn't remember, but the video shows him losing his balance at the end of the grind, jumping awkwardly into the air and landing backward on his skates before his head slams into the pavement.
"Up to that date, it was by far the craziest fall I'd ever seen," Stephenson says. "It was really, really intense."
Zupancic sat up for a moment before passing out. Blood spilled onto the pavement. KFC members rushed him into the back seat a car and Rockwell sped through red lights to KU Hospital. A reservoir of blood formed inside his skull, causing pressure to his brain. He was placed in an induced coma for three-and-a-half days to keep his blood pressure low.
When he woke up he couldn't smell or move his right foot-it was as if he'd had a stroke. As he stayed in the hospital for two weeks, word spread through the skating community.
"It's not the most glorious way to get known," he says. "I guess a lot of people in the skating world knew who I was before from the videos. But I was kind of brought to the forefront for a minute when people were hosting message board comments about me, while I was in an induced coma and no one knew if I was even going to wake up."
A month later another KFC skater, Brandon Mateer, a.k.a. Bruce Matler, suffered a similar wipeout in Barcelona that landed him in a coma as well. This led to the film "KFC Members Only: Zombie Comatose," which debuted in Nov. 2005 at Liberty Hall. Zupancic has since made a few dollars from the video, and it's been shown on "World's Most Amazing Videos" on Spike TV, in addition to the upcoming MTV show.
It took about six months before he tried any risky tricks-with a helmet on. He has permanently lost much of his sense of smell, and his left hand and foot are partially numb-but it could have been much worse. Needless to day, his mother was worried sick by the ordeal.
"Hopefully," she says, "he won't do anything so silly again."
***
Zupancic's primary focus for the moment is his art.
He's getting pieces ready for his large show in San Francisco later this year, in a gallery owned by a skate/ski store called D-Structure. He's also preparing for a showing at Mirth, for about a month starting April 1, and he's making new pieces for the April 23 "Fresh Produce" show at Teller's Third Floor.
Beyond this, Zupancic's notion is simply to paint and skate and play music, and keep wandering.
"It's all about cultivating your own ability to follow your own questions with more questions," he says, "and to be comfortable with the idea of not really knowing what's going to happen."