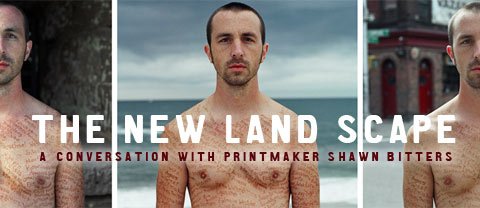 In a short time, we have progressed from wanting to respect and protect the environment (you know, all that stuff outside) to worrying about our carbon footprints and our monetary support of pesticides-in other words, our role within the environment. Makes sense, then, that art will evolve from its millennial adoration of nature to an exploration of an individual's experience within it.
Influenced by land strata, geologic time, personal experience, ancestry, genome research, geography-to name a few things-Shawn Bitters' art brings the world down and grapples with it on a personal level. He uses various media to work with two- and three-dimensional space, inviting the viewer to explore his work visually and physically. From maps to large-scale paper sculptures to photography, Bitters considers topography and place with a deep, nuanced perspective.
Consider it landscape art for a new millennium.
Trained at the Rhode Island School of Design, Bitters is currently an assistant professor of serigraphy at KU. He will present a chronology of his work March 29 at 4-1-1 Artspace, 411 E. 9th St. To preview, he answered a few questions regarding his history, influences, and the wide world of Kansas.
lawrence.com: Give a little personal history: Where did you grow up, and how long have you been in Lawrence? Does your background influence your current work?
Shawn Bitters: I spent the majority of my childhood in Orem, Utah, which is about 45 miles south of Salt Lake City. My work stems from my relationship with my home landscape and how that landscape and culture affect all others that I encounter. I have also lived in Seattle, Rhode Island, and a short stint in the West Bank/Israel. I have been in Lawrence for about two years.
Past Event
Thursday, March 29, 2007, 7 p.m.
4-1-1 Studio, 411 E. Ninth, Lawrence
All ages / Free
You're currently exploring the body and how it defines place. How does this continue the dialogue with body art pioneers such as Chris Burden, as well as feminist artists like Jana Sterbak? Were these artists influences?
I am exploring how the body defines place and also how place defines the body. Ana Mendieta, Vito Acconci, and Chris Burden, of course, opened up the possibility of using my body to directly express my ideas. However, I think the stronger influences were land and environment artists such as Hamish Fulton, Richard Long, and Giuseppe Penone. My new work-which uses my body-in the end, is to discuss my physical connection to personally significant landscapes. However, you can't use the body in contemporary work without referencing feminism, and the influence is strong.
Unlike current scholarship on the historical parallels of cartography and the medical mapping of the human body, your work uses the body as a launching pad to explore the space/place around it. How do you see these approaches differing? Does history play a role in your approach?

History plays a large role. I am using history on both the minute (personal) and epic (geologic) scale. My personal history is a blink compared to geological time. The Ancestral Tattoo Photographs have a tie-in to the human genome project in the way that they tie my body to my indigenous lands in Europe, generally similar to the way you can swab the inside of your cheek, send it in to certain research groups, and get a broad idea of the path your ancestors have taken since prehistoric times. However, as a creative work it is (I hope) more nuanced, personal, and specific.
How is your interest in geology (i.e., "Devil's Backbone") reflected in your current body of work?
In "Devil's Backbone," the body is important in that I am trying to engulf it. So the emphasis is on the work and the viewer/participant. Also, the processes of geology are metaphorical for personal history. In the current work I am taking a step back from geology and focusing directly on my body's connection to the land.
Do you think the Kansas landscape will change your work?
I'm trying to figure that out. I'm sure it will, but it will take time. The openness of the land is almost frightening. I'm accustomed to the dramatic terrain of the intermountain west but not the power of the near unchanging Kansas landscape. In Utah the strata is buckled, warped, and gorged. Here the exposed strata has not yet been transformed. The effect of geology is more subtle, and it will take time for me to respond to it.
What do you find to be most influential in your work?
It is a combination of things. Mostly it is the land and how I am or am not connected to it. The geographer Yi Fu Tuan and the writer Barry Lopez have recently been important. This is not to diminish the role that both past and contemporary art have and will have on my thinking.