Photo Gallery
Style Scout: Jessica Dean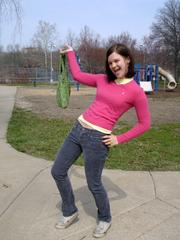 Jessica Dean
Hometown:Derby, Kan.
Age: 19
Sign:Gemini
Time in Lawrence:Two years
Occupation and/or major:Geography major at KU, Kansas Biological Survey Botanist's Assistant.
Where was/what doing when scouted?
Playing tag at Veterans Park.
Favorite clothing store?
Well, it was the Casbah, but sadly, they closed. The Gap because they have good sales, cute skirts, and long socks. I got a pair of jeans there for like $4 once.
Other stores you frequent?
Au Marche for their candy selection and all their unique items you just can't find anywhere else. And it's maybe not really a store, but Sylas and Maddy's for obvious reasons.
How would you describe your style?
Serious and classy. But when it's laundry day, anything but gaucho pants.
Favorite trend for this season?
I like different colored tights and baby-doll dresses, even though I don't own any.
Least favorite trend right now?
Cheetah print-well, that could be OK. Oh, definitely metallic jackets and purses. Girls wearing leggings without anything over them. I see girls wearing this style more than you'd think.
Where do you get your haircut?
Z Cosmetology. They're cheap, but it's like going to a salon.
Favorite coffee shop in Lawrence?
La Prima Tazza for the atmosphere, the two-for-Tuesdays, and delicious chai.
Favorite bar in Lawrence?
I don't really know, I can only really get in to go to shows. I've been to shows at the Bottleneck and the Granada-The Decemberists and Sleater-Kinney!
Is there anything you'd like to see more of in Lawrence?
Yellow warblers. I saw one in a tree outside Lindley once, and I figure it must have a family.
Less of in Lawrence?
Bad drivers. Because I've almost been killed by them too many times, especially on campus.
Style = ?
Paisley print-you can't go wrong with that!
Who's got style?
Ballerinas! Who wouldn't dress like that all the time if they were allowed to?
Are you a happy American?
Yeah, even though I'm leaving the country next year...
Tell us a secret...
I love Mario Chalmers.
Food or clothes?
Well, this past month is evidence that I would buy food.