Photo Gallery
Style Scout: Josh Rome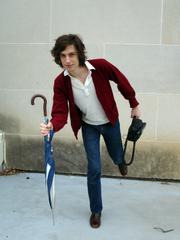 Josh Rome
Hometown: Hays, Kan.
Age: 21
Time in Lawrence:Three years
Occupation and/or major: English major, bag phone connoisseur, single Pisces
Where was/what doing when scouted?
Looking for my fact, The Genius, at the Spencer Research Library.
Favorite clothing store?
It was the Salvation Army, which is probably the best clothing store to ever get turned into Family Video. I actually haven't bought many clothes in a while-I've sort of just been coasting on what I got in high school.
Other stores you frequent?
The Merc for groceries, The Dusty Bookshelf when I want to get books, and Jenson's for the mix and match.
How would you describe your style?
Overbearingly masculine and pretty much summed up by the phrase "What would Bruce Springsteen do?"
Favorite trend for this season?
People saying "Cheers!" instead of the phrase "Thank you." I think it's gonna be really big this season. Also, saying "man" instead of someone's name and I think the term "Stoked" is coming back.
Least favorite trend right now?
People cutting their hair just because it warmed up outside and jet fighter cell phone headgear-those guys should take it easy.
Where do you get your haircut?
In the past, I've always sort of compulsively cut my hair little by little, sort of like having cows graze on your yard instead of mowing it. But right now I'm not cutting it for a while to curb this season's trend.
Favorite coffee shop in Lawrence?
I guess when I used to drink coffee it was always at my house, but I kept hearing that stuff is bad for you so, whenever I want to wake up now, I drink what I like to call a Lui Kang, which is two shots of sake and one shot of Hot Damn.
Favorite bar in Lawrence?
It would definitely have to be Rick's Place. I like to go there in the afternoon when it doesn't remind me of a bad high-school party. Sometimes Rick is there. One time he showed us his collection of fake IDs-he punches a hole between the eyes of every picture.
Is there anything you'd like to see more of in Lawrence?
More Muck Fizzou T-shirts because sometimes I go almost a day without seeing one.
Less of in Lawrence?
Less TVs and less people wearing socks. I think people wearing socks are really lame-bombs. It should be known that I am not wearing socks with these boots, I hope you can see it in the close-up, because that's how a real man does it. It is really important to me that no socks accentuate my man-legs when I sit down and my pants ride up.
Style = ?
Identity but not necessarily individuality, and maybe a sense of belonging. My mom has this sweater that she wears around Christmas with a reindeer's face on it and below the face it says the reindeer's name, "Comet." This sums up style to me, it's also about attitude as well. She doesn't know who Darth Vader is, and that's some serious style.
Who's got style?
People who name their bongs. Donovan, Green Day, and anyone who wears their pants above their belly button. (Oh, and I wanna give a shout out to jogging shorts guy.)
Are you a happy American?
Yeah, I'm American. Wait, what's the question?
Tell us a secret...
One time I was eating dinner at a Japanese buffet in Wichita with Gary Busey, and when he went up to get another plate of noodles, I took a couple of gulps of his cosmopolitan to see if it was virgin or not. It wasn't. And I hope he's not reading this.
Food or clothes?
Peanut Butter. Stupid Question.