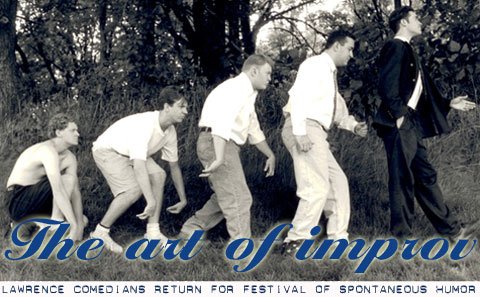 Der Monkenpickel.
It's not a real term ... in any language.
It was concocted one day when fellow Lawrence residents Corey Rittmaster and Ed Goodman were discussing how the two funniest words in the English language were monkey and pickle.
"Then we thought we'd class it up a little by giving it a German bastardization," Rittmaster recalls.
Thus the reason behind the name Der Monkenpickel, an improvisational and sketch comedy troupe co-founded by Rittmaster in the mid-1990s after he graduated Kansas University with a broadcast journalism degree. ("Which is doing me wonders right now," he confesses sarcastically.)
Of particular note is that one of the members of the defunct Monkenpickel was Jason Sudeikis, a prominent cast member of "Saturday Night Live" during the last three seasons.
Der Monkenpickel's Rittmaster, Goodman, Sudeikis and Jeremy Carter will reunite for the first time this decade as one of the headliners of 7: The KC Improv Festival. (Fifth member and former Jayhawk Eric Davis is unable to return because he is in Asia performing a last-minute stint with Cirque du Soleil.)
"The four of us haven't been onstage together in 10 years," Rittmaster says. "It's either going to be hilarious or a train wreck. Either way you don't want to miss it."
It will also mark the first time in seven years that anyone has attempted to mount an improv festival in the region.
"We made the decision this fest would be about Kansas City improv, so we started with an all-local weekend and then invited performers who either got their starts here or have been involved in the scene in the past," says Trish Berrong, organizer of the two-weekend festival.
The March 23 weekend showcased current area acts such as The Trip Fives and Straight Man, while the second will feature national performers with K.C.-area ties.
Berrong says, "Everybody was interested in the things a festival brings: learning from the pros, seeing new approaches to the work without leaving town, networking - OK, beer after shows. Same thing."
Lure of the unknown
Unlike sketch comedy or stand-up comedy, improv works best when it is completely spontaneous, says Jeff Drake, a Leawood native and 1992 KU English graduate.
"There are times when the audience will come up afterward and say, 'Well, you obviously plan out a little bit.' That's actually harder. To plan out a little bit is a lot harder than not planning out anything," Drake says.
Currently, Drake lives in Los Angeles, where he is a network television writer (most recently for "The Megan Mullally Show") and often performs and teaches improv.
Drake will return for the KC Improv Festival to take part in Brother Love's Traveling Salvation Show, which partners him with wife and fellow "Mullally" staffer Wendy Molyneux, "30 Rock" writer Kay Cannon, and Second City's Tim Mason, Erin McEvoy and Dan Walsh.
It will be the first time this group has appeared together.
"Part of the draw of improv is the unknown," Drake says. "While it's fun to play with people you know really well, you also like to play with people who you don't know because they'll take stuff in a new direction that you're completely unprepared for - and there's nothing more fun than that."
Some basic rules
Drake says when learning to improvise comedy, it's best to keep it simple.
"A lot of people think improv is heavily based in coming up with a crazy character. But the majority of it is being real and reacting in a realistic way. The comedy comes from the truth in the moment," he says.
"The times we've done (corporate) workshops, people are really surprised at how funny it appears to other people because they're just reacting in a natural way."
As with any skill, there are a few primary tenets to follow.
"One of the main things is to teach people to say yes to what is said. If somebody comes out and says, 'I bought you these flowers,' typically they will try to go to a funny place and say, 'Those aren't flowers. Those are squirrels.' They think they can get comedy out of the absurd. But basically they're saying no to someone else's idea.
"Scenes are basically built between two people. If somebody says no, it will shut that down quickly. If both people say no, and nothing is agreed upon, it will come to a halt."
When everything is going well onstage, Drake says it usually is because the players are all saying yes very quickly to whatever idea is cropping up.
"Then the audience can't believe that it's made up on the spot," he says.
Breakout guys
Although Drake didn't get involved with improv until after he graduated from KU and moved back to Kansas City, Rittmaster and his Monkenpickel gang took advantage of Lawrence's fondness for underground humor.
"There's something about the liberal nature of a college town and its creative energy that allows for a little more experimentation," says Rittmaster, who currently lives in Chicago. "We all worked at ComedySportz in K.C. I don't mean this in a bad way, but that was the big corporate show. When we wanted to branch off and do some different things, we would try out some improv at a coffee shop in downtown Lawrence. That was where we would go to flex our creative muscles."
Despite a decade having gone by since Der Monkenpickel's heyday, Rittmaster says all his teammates are still involved with improv. Even "Saturday Night Live" star Sudeikis still ventures from his NBC offices to New York's Upright Citizen's Brigade Theatre in order to keep his improvisational chops fresh.
Rittmaster never misses an airing of "SNL" these days. He enjoys seeing how buddy Sudeikis' skills have flourished since their improv days in K.C.
"This most recent episode with host Julia Louis-Dreyfus, his boom mic sketch was vintage Sudeikis. He plays that kind of smarmy hothead so well," Rittmaster says.
Does it surprise him that Sudeikis is on his way to becoming a household name in comedy?
"Not at all. He's hilarious," Rittmaster says.
"People have asked me before if I knew Jason would be the breakout guy. It's not that I didn't think that, it's that we ALL thought we would break out. We were all pretty impressed with ourselves."
More like this story on Lawrence.com