A small town in rural Kansas City is not the most obvious place to set a heist picture starring Joseph Gordon-Levitt and Isla Fisher, two of Hollywood's brightest up-and-coming stars. And centering your movie on a brain-damaged bank janitor is about as far away as you can get from glitz and glamour, but that is one of the reasons "The Lookout" is such a refreshing treat.
Screenwriter Scott Frank makes a sure-handed directorial debut with one of the rare caper films in recent memory that cares more about its characters than tricking its audience. Frank knows his way around a tightly plotted crime thriller, having adapted the Elmore Leonard novels "Get Shorty" and "Out of Sight." Here he forgoes immediate fireworks, opting for a contemplative pace.
Former golden boy Chris Pratt (Gordon-Levitt) is a shadow of his former self since being at the wheel of a tragic high school car accident years ago. Crippled with guilt and not able to function at a normal cognitive level anymore, he spends his time at a school that teaches independent living skills. His roommate, a blind father figure named Lewis (Jeff Daniels), helps Chris literally try to put his life in order.
Because of Chris' blurry mental state and some surprisingly effective voice-over, "The Lookout" bears more than a passing resemblance to 2000's "Memento." Just as the memory-impaired Leonard relied on his tattoos to remind him of his past in that film, Chris writes in a little notebook to reinforce the sequence of events in his life. When shady new friend Gary (Matthew Goode) and an ex-stripper named Luvlee Lemons (Fisher) befriend Chris, they also begin adding their own input to Chris' notepad. The slow character build keeps you guessing about their motives, and that can be more interesting than the plot itself.
Movie
Lookout
***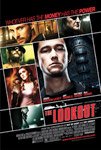 Fantastic performances from Joseph Gordon-Levitt, Jeff Daniels, Isla Fisher and Matthew Goode punctuate this small character-driven drama that just happens to involve a heist. No tricks, no overly clever heist-just flawed people trying to find their way. "The Lookout" is a refreshing treat.
Goode was a womanizing, upper-crust Brit in Woody Allen's "Match Point." The fact that he's virtually unrecognizable here in Midwestern, small-time crook mode is a testament to his versatility. Even the clearest of thinkers might have a hard time resisting the magnetic Gary. The same goes for Fisher, who rose to fame as a smothering horndog in "Wedding Crashers," and here gives surprising depth to what could have been a one-note role. Daniels is fine as well, proving that a little warmth and a lot of bitterness go a long way towards fleshing out a supporting part.
Gordon-Levitt is the real story here, though. In his third enigmatic leading role in a row (following "Mysterious Skin" and "Brick"), he again proves capable of handling tougher material. The regret and sadness that punctuates Chris' daily life are felt on a very real level, thanks to the Gordon-Levitt's subtle work. Even when Frank's screenplay threatens to stretch its own credibility in the third act, Gordon-Levitt smoothes out the rough edges with his naturalistic performance.
"The Lookout" is a little gem-a crime movie done right. It doesn't posture and it isn't overflowing with excess mugging or annoying stylistic choices. Nobody shoots with two guns at once. There are no pop culture references forced into the mouths of characters that would never say them. It is just a compelling story about flawed people, and that is enough.