Photo Gallery
Wakarusa Music & Camping Festival 2006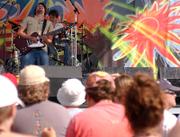 Many of those caught in the drug crackdown at the 2006 Wakarusa Music & Camping Festival have yet to be formally charged.
The reasons: paperwork delays or, in at least one case, concern about the legality of the drug seizure.
But winning convictions wasn't paramount.
"We sent a positive message that the festivalgoers are welcome as long as (they) follow the rules," District Attorney Charles Branson said in an e-mail. "To that end, I am satisfied with what law enforcement has accomplished."
In one case, prosecutors decided that the Kansas Highway Patrol's seizure of cocaine, LSD, marijuana and ecstasy from two Wisconsin men at a checkpoint outside the festival might not withstand a constitutional challenge.
Troopers stopped the car June 8 for a driver's license check and asked to search the vehicle after observing the driver fidgeting and avoiding eye contact. Branson said his staff didn't think the driver's behavior gave police the "reasonable suspicion" required for a routine traffic stop.
"The troopers were doing exactly what they should have done under the circumstances," Branson said. "They have to make a field decision on what reasonable suspicion is. We have the luxury of doing it after the fact."
Lt. John Eickhorn of the Kansas Highway Patrol said traffic stops aren't an exact science.
"The (district attorney) knows best what will or will not work in his jurisdiction," Eickhorn said.
Branson said his office is still waiting on reports for at least six felony drug arrests.
Eickhorn said he wasn't aware until last week that the district attorney's office was awaiting more information on five highway patrol cases. The other is a sheriff's case.
Prosecutors have two years in which to file a case, but Eickhorn said, "We certainly would have liked to have satisfied the court by now."
More than 80 people were arrested at the festival, including 12 LSD arrests and 25 marijuana arrests. Police seized more than $10,000 during the crackdown under a law that assesses a tax on controlled substances.
Many people arrested reached plea agreements in the week after the festival. Others reached diversion agreements, which mean charges are dropped if they stay trouble-free.
But the district attorney's office hasn't kept a record of how all Wakarusa criminal cases have ended.
Wakarusa.com comments
Here's a sampling of some comments from the discussion board at Wakarusa.com, in response to a March 20 posting by the Drug Policy Forum of Kansas headlined "Think you know your rights during police encounters?"
¢ lynrdskynrd, Lincoln, Neb.: "I don't see how information about avoiding getting in trouble with the law brings any more negative attraction to the festival on these threads than people spreading hate (toward) others that plan on attending Wakarusa."
¢ Salmon, Kansas City, Mo.: "My head is bloodied from the repeated beatings on the keyboard. Honestly, this is beyond ridiculous. Is there a way we can possibly draw more unwanted attention to Waka?"
¢ April Green, Pittsburg: "We aren't mean, we are just tired of people posting topics on here that make it seem as if everyone going to Wakarusa is going to get arrested or hassled by the police."
¢ djshawn, Manhattan, Kan.: "Threads like this simply draw unwanted attention by the 'powers that be.' This kind of thread, along with any about drugs and breaking any other laws, simply gives the 'powers that be' more of a reason to focus upon our pleasant little festival."
¢ CPJS Johnny, Leavenworth: "I seriously doubt that anything said on this board is going to affect the way that local law enforcement views our community after last year. I think the cat is out of the bag."
Drug Policy Forum of Kansas has begun recruiting volunteers to work at this year's Wakarusa Music & Camping Festival. Also, the Douglas County American Civil Liberties Union is having a Wakarusa-related panel discussion, Privacy Rights in Public Places, at 7 p.m. April 25 at the Lawrence Public Library.
Q&A with the sheriff's office
Douglas County Sheriff's Lt. Doug Woods is coordinating law enforcement plans for this year's Wakarusa Music & Camping Festival.
Here are his written responses to some questions about the festival:
Q: Overall, do you anticipate there will be more, less or equal law enforcement manpower devoted to this year's festival? Can you go into detail?
A: While the planning for the Wakarusa Festival is still ongoing, it is anticipated the law enforcement presence on the festival grounds will be similar to last year.
Q: What adjustments do you expect law enforcement will make from last year?
A: Law enforcement will continue to provide a safe and secure environment for those attending the Festival so they are able to enjoy the event, while at the same time complying with all local, state and federal laws and regulations.
Q: What will be law enforcement's strategy or philosophy for enforcing drug laws at the festival? Will it be more strict, equal or less strict compared with last year?
A: Law Enforcement will maintain a proactive philosophy of enforcing all laws.
Q: Will there be any checkpoints or hidden, night-vision surveillance cameras?
A: It is the sheriff's office's understanding that Wildlife and Parks has not requested or been asked about a hidden camera demonstration. The sheriff's office will not be requesting usage of the large camera system demonstrated during the 2006 Wakarusa Festival. ... I don't believe there will be any check points.
More like this story on Lawrence.com