Photo Gallery
Wakarusa Music & Camping Festival 2006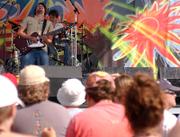 It's time to get ready to jam, not to focus on the past.
That's the message from Wakarusa Music & Camping Festival promoter Brett Mosiman as he looks ahead to this year's music extravaganza roughly two months away. The festival, scheduled for June 7 to 10 at Clinton State Park, features more than 70 bands, including headliners Widespread Panic and Ben Harper.
"It'll be the best festival yet," Mosiman said. "Our approach is to run it responsibly and work with the community and put together an incredible lineup. ... We would like to see it become part of the community and a staple every summer."
The festival's survival for a fourth year wasn't guaranteed. After two years of generally unfettered partying - and the death of a camper in 2005 from a drug overdose - police upped their presence last summer with a checkpoint, dozens of drug arrests and hidden surveillance cameras.
Police said they were doing their job, but some campers complained it was too intrusive. Mosiman said the drug arrests grabbed headlines from the music and economic benefit of the festival.
"We spent the last six months going to community leaders and going to politicians and trying to get our message out that this was an amazing thing for tourism, for revenue, for culture," he said.
County Administrator Craig Weinaug said he and other leaders have been meeting with Mosiman, working to learn lessons from last year.
"I think they have done everything that organizers can and should be doing to try to ensure a successful, safe, festival for 2007," Weinaug said.
Mosiman said ticket sales are on par with last year.
The festival last year attracted nearly 15,000 people per day.
"We want this event to be happy, harmonious, peaceful, and it will be," Mosiman said.
More like this story on Lawrence.com